Adorable TikTok Of Prince Harry Giving A Young Woman A Cinderella Moment Is Running Around
Prince Harry was Prince Charming for a young woman.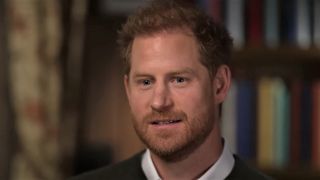 (Image credit: CBS)
Meghan Markle's prince came to her back in 2016 in the form of Prince Harry, Duke of Sussex with a royal wedding to follow two years later. While the "toxicity" of media tends to surround this loving couple, they both have plenty of heartwarming moments you'd find in a fairy tale. Well, Prince Harry gave a young woman her Cinderella moment in an adorable TikTok that will undoubtedly make youngsters everywhere wish they had a prince in their lives.
When you've grown up watching Disney princess movies, you may have a fantasy for a prince of your own to turn up in your life when you least expect it. A young woman got to have a Cinderella moment of her own as seen in a sweet and swoon-worthy TikTok video. Take a look below:
The TikTok shows a young woman speaking to Meghan Markle only to be startled when a woman pulls her back and makes her lose her shoe. Prince Harry as a witness to this reaches out to help this young fan put her shoe back on. However, this Cinderella didn't need a prince to place her shoe back on her foot. No distress was had here as she was able to put her shoe back on herself. But the grateful fan still accepted a heartwarming handshake from the Prince as he introduced himself.
Glowingly positive comments from TikTok came pouring in for this Prince/author. They're calling Prince Harry "a lovely guy," "a gentleman," and that he's "the real deal." I would have to agree in light of all of the humanitarian and environmental efforts he's made over the years. He's been a true mental health advocate in coming up with the mental health wellness campaign "Heads Together" as well as his efforts towards the global distribution of the COVID-19 vaccines. Since he and his wife share the same goals to make the world a better place for us all, they truly make a wonderful team.
Another quality that also makes Prince Harry worthy of a Prince Charming title is the clear love he has for his wife, Meghan Markle. They've tackled a lot of hurdles as told during their big interview with Oprah Winfrey, but they've managed to get through them. After speaking to Oprah, director and actor Tyler Perry admit this couple taught him about love as he invited them into his home. He was so moved by the love he witnessed between the two of them that he wanted to do anything he could to support them. Almost like a fairy tale, right?
TikTok videos like Prince Harry's Cinderella moment with a fan show the importance of reaching a helping hand to someone who needs it. If you'd like to know what Prince Harry's life has been like as of late, you can watch his docu-miniseries Harry & Meghan on your Netflix subscription. Be sure to take a look at our TV premiere dates so you'll know firsthand what other TV projects are available now and the not-too-distant future!
Your Daily Blend of Entertainment News
Just your average South Floridian cinephile who believes the pen is mightier than the sword.