Check Out Rihanna's Iconic Outfits And Timeless Styles Throughout The Years
Rihanna's been at werk werk werk werk werk.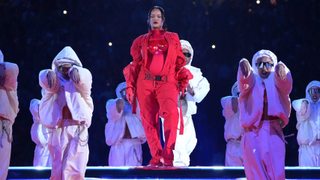 (Image credit: Kevin Mazur / Contributor)
Rihanna dropped in on the Superbowl LVII Halftime Show after a 6 year stage performance hiatus building her fashion line Savage x Fenty, beauty care line Fenty Beauty + Fenty Skin, and family which she announced will be growing by another set of two tiny feet. Since her big break in 2005, Rihanna has been slaying on the stage with a variety of stunning fashions and hairstyles to showcase her bangin' hits.
Flip through this slideshow to see some of her iconic looks since she first asked Mr. DJ to turn the music up. If you missed her stage comeback last Sunday, never fear for you can still catch the halftime show.
Image 1 of 40
Your Daily Blend of Entertainment News
Sarah is currently a professional child wrangler. When she is not running around on the playgrounds and slapping together PB&J sandwiches, she loves getting a good sweat in at the gym, singing, and going to see live theatre (while simultaneously dreaming about being a part of a stage creation again one day).