Clip Of Prince Harry Reciting Christina Aguilera's 'Genie In A Bottle' Incorrectly Runs Around, But I'm More Distracted By His Wild Drug-Taking Story
This story, all around, is wild.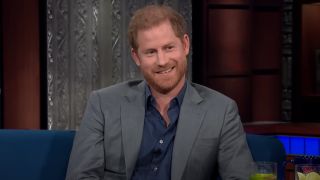 (Image credit: CBS)
Prince Harry is full of some wild stories, and we got to learn about a whole bunch of them when his book Spare came out swinging with its wild revelations and allegations. However, there are also lots of fun facts about the Duke of Sussex, one of which is his love for pop music. However, the internet made sure to call him out on his pop facts when he incorrectly quoted Christina Aguilera's hit "Genie in a Bottle." Although while the people are stuck on this lyric mishap, I'm more distracted by the drugs he took during this story.
A reader posted the excerpt from Spare where Prince Harry recalls this Aguilera story on Twitter which featured both the lyric mishap and the drugs. The prince started the chapter by writing:
While the Aguilera of it all caught the internet's attention, and we'll get to that in a moment, can we take a beat to recognize how many drugs he took when he walked into the house? The mushrooms alone are enough to make an impact, but also smoking a joint, I'm surprised he still remembers this story. I'd also assume his inebriated state is a reason he misunderstood who exactly he was meeting, because the story went on to say:
This excerpt ran around at first because the Duke of Sussex omitted a few words from his rendition of Aguilera's hit single. The chorus actually goes:
Clearly, the prince missed a couple of words in his recall of the lyrics. I'm curious if that was intentional, or if he really just forgot the extra words. Based on the number of drugs that were ingested before meeting the songwriter, it makes sense that he doesn't fully remember who said the lyrics. However, when it comes to the book, he could have Googled the lyrics all these years later. But, maybe he just felt uncomfortable saying "baby" and "honey."
Although considering all the wild stories in Spare, I doubt intentional omission was the reason. To make this point a bit clearer, Prince Harry mentions his private parts nearly 20 times, including a story about getting frostbite on his penis. He also told the story about the time he wore a Nazi costume to a party, and made major claims about his brother and father. All of this led to critics wondering if Prince Harry said too much, and just looking at the translated titles of Spare you can tell how brutal and revealing this book is. So I don't think he would feel weird using the real lyrics, I genuinely believe he just got them wrong.
While this lyric fiasco is fascinating, I'm more distracted by the number of drugs Prince Harry took before meeting this songwriter, because it is kind of intense. Although considering how revealing he's been in the book and how much people with Netflix subscriptions learned about him in Harry & Meghan, it's really not all that surprising that this drug-induced interaction was part of Spare.
Your Daily Blend of Entertainment News
Riley Utley is a Weekend Editor at CinemaBlend. She spent many years working in local journalism across the country writing about art, news and sports. One of her favorite films is When Harry Met Sally and she walks around constantly quoting Ted Lasso.