Dave Season 3: Premiere Date And Other Things We Know About Lil Dicky's FX Comedy
We won't have to wait much longer.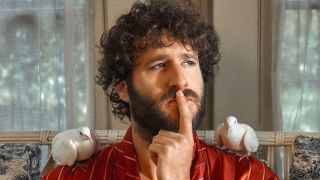 (Image credit: FX)
Have you been patiently waiting for Dave Season 3? *Sigh.* Me too. Luckily for us, the upcoming premiere of the FX comedy series is just around the corner.
If you're not familiar with the show, Dave is co-created, co-written and executive-produced by Dave Burd, more commonly known by the stage name "Lil Dicky." It chronicles a fictionalized version of Burd's quest to become the greatest rapper in the world. I can't recommend the show enough—it's surprisingly funny and shockingly real, and you might find yourself wiping away a tear in between giant belly laughs. Before you protest that a rapper can't possibly write comedy, check out Seasons 1 and 2 and then get back to me.
If you're not watching this show, you need to start. Here are some things we know about Dave Season 3, including the premiere date that'll see it added to the 2023 TV schedule and some teasers about the plot.
What Is The Dave Season 3 Premiere Date?
We now know that the third season of the comedy will premiere on FXX at 10 p.m. ET on Wednesday, April 5. But there's a twist: It's actually a double-feature, and the first two episodes will air back to back. That's double good news for fans of the show, who've had to wait over a year for new episodes (the Season 2 finale hit TV screens in August 2021).
It was back in February 2022 when FX officially announced that Dave would be returning for Season 3, However, it wouldn't be until January 2023 that the network would reveal the premiere date.
Lots Of Your Favorite Characters Are Returning
According to a press release from FX, lots of the actors from Dave Seasons 1 and 2 will be returning in Season 3. That includes Dave Burd a.k.a. Lil Dicky himself as the titular character, GaTa as an on-screen version of himself, Andrew Santino as Mike, Taylor Misiak as Ally, Travis Bennett as Elz, and Christine Ko as Emma (you might recognize Ko from her role in the Season 2 cast of Only Murders In the Building).
Some fans were worried about Misiak's role in Season 3 after her absence from a cast Instagram photo, but Burd took to the comments to assure viewers that Ally would still play a vital role in Season 3:
Could that mean there's a chance Ally and Dave will end up reunited in Season 3? We can only speculate.
SO Many Guest Stars
Lil Dicky announced some of the guest stars for Dave Season 3 at the Television Critics Panel (which the series later mostly echoed in an Instagram post), but added that the guests he'd kept secret would "blow [people] away."
The already-announced guest cast for the third season include Usher, Rick Ross, Machine Gun Kelly and Megan Fox, Travis Barker, Don Cheadle, Killer Mike, and Demi Lovato. That's quite the list, although it's exciting to know there are still some secret cameos lined up.
That stacked roster of guest stars is nothing new for Dave. Both the freshman and sophomore seasons of the show included oodles of guest stars in cameo appearances, including music producer Benny Blanco, singer/rapper Doja Cat, NBA legend Kareem Abdul-Jabbar and Justin Bieber (to name a few).
That Travis Barker announcement makes me wonder if Kourtney Kardashian will be returning to the set as well, having first appeared in a Season 1 episode. My fingers are crossed!
Kourt's not the only member of the Kar-Jenner family with a former guest spot on Dave, by the way — Kendall Jenner appeared alongside Hailey Bieber (long before the Jelena drama resurfaced) early in Season 2.
The Gang Is Hitting The Road
Did you spot the tour bus in the back of the picture posted to Lil Dicky's Instagram? The gang is leaving LA and going on the road this season, which was confirmed in an interview Burd did with Consequence TV at the 2023 Television Critics Panel:
Who doesn't love a road trip season? It'll definitely be fun to see these characters on the road, dealing with the stresses of touring the country in a tiny bus. I'm also hoping the Texas locale means we'll be seeing some version of Dave as a cowboy.
According to Lil Dicky, Season 3 Won't Be The Last
In the same interview, when asked if Season 3 would be Dave's last, writer and executive producer Burd had an easy answer — not if it's up to him:
There you have it—the writers have more story to tell, and they're not planning on concluding with Season 3. However, if FX ultimately decides not to renew the show for Season 4, the Season 3 finale should serve as a satisfying enough conclusion for fans.
How To Watch Seasons 1 And 2
Need a refresher before Season 3? You have until April 5 to get caught up on all episodes of Dave before the new season airs. Seasons 1 and 2 of the FX show are available to stream with a Hulu subscription, but the comedy also streams on Star+ in Latin America and on Disney+ in all other international territories.
If you HAVE watched, check out our list of shows to watch if you like Dave.
Your Daily Blend of Entertainment News
She/her. Lover of female-led comedies, Saturday Night Live, and THAT scene in Fleabag. Will probably get up halfway through the movie to add more butter to the popcorn.