Don Lemon Took a Day Off After 'Sexist' Comments Went Viral, And Insider Says There's Been BTS Backlash
What will happen to Don Lemon?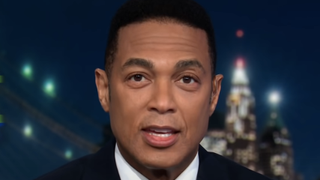 (Image credit: CNN)
Following Don Lemon's heavily criticized comments about when a woman's prime is, he's taken the day off, and allegedly there has been some behind-the-scenes backlash. It was announced two hours after his initial comments on the CNN broadcast that he'd be off the next day. Following Lemon's apology, an insider is calling him out for his "sexist" comments about Nikki Haley, and they said the host is "skating on thin ice," at the network.
Lemon's co-hosts Kaitlan Collins and Poppy Harlow acknowledged his absence from the broadcast, and they said that he was being replaced for the day by Audia Cornish. That was the only comment made on air about the co-host, what he said yesterday was not specifically brought up. Now, an insider shared their feelings on Lemon with the Daily Mail, saying:
Following his comments Lemon took to Twitter to post an apology that read:
The reference I made to a woman's "prime" this morning was inartful and irrelevant, as colleagues and loved ones have pointed out, and I regret it. A woman's age doesn't define her either personally or professionally. I have countless women in my life who prove that every day.February 16, 2023
However, the source did not buy it, and continued saying:
For context, Lemon's comments about women in their prime, seem to have been a tipping point, considering all the talk about the network reportedly being pressured to fire him.
The reason for all this talk is while on air, the CNN employee and his co-hosts were talking about Nikki Haley, who had just announced she would be running for president. Lemon noted her age, she's 51, and said the politician isn't in her prime, elaborating with:
Harlow then pushed back on the comment, saying "Prime for what?" Lemon continued to make his point saying if you Google it those ages would come up as a women's prime. His co-host then fired back again, asking if he meant prime for childbearing, or prime for being president, and then he said:
Allegedly, this is not the first time Lemon has been in trouble, and reportedly the boss of CNN, Chris Licht, has been under pressure to do something about the host's actions. A source reported that there allegedly is pressure to fire Lemon following his repeated problematic actions.
Lemon was involved in an assault lawsuit that was suddenly dropped this year, which involved Dustin Hice accusing him of "emotional pain and suffering" due to "aggression and hostility." He's also been involved with tense moments at CNN that have caused his co-workers distress, like the time he made Kaitlan Collins run off the set in tears after reportedly berating her in front of everyone, as The Daily Mail explained.
While he's had multiple issues crop up over the last few months, he has a track record of making odd comments and being talked about by comedians for what he says, and sometimes what he wears. For example, in 2016 he commented on Kathy Griffn's "rack". This year, he was clowned by Stephen Colbert for his outfit, and then took it like a personal attack. While both these moments were taken in a more humorous way, Dave Chappelle did call the CNN anchor out during one of his specials.
Lemon has had his fair share of problematic comments, and the internet has not been afraid to call him out for them. If this source is correct, CNN is allegedly facing pressure to do something about it, specifically after he made those "sexist" comments on air.
Your Daily Blend of Entertainment News
Riley Utley is a Weekend Editor at CinemaBlend. She spent many years working in local journalism across the country writing about art, news and sports. One of her favorite films is When Harry Met Sally and she walks around constantly quoting Ted Lasso.