Jay Hernandez Shares The Magnum P.I. Role With Tom Selleck. Why He Doesn't Rock The Infamous Mustache
Tom Selleck's mustache can't be matched.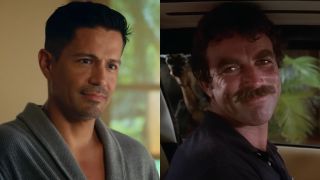 (Image credit: NBC/CBS)
Fans of the former CBS series Magnum P.I. were recently reacquainted with Jay Hernandez's Thomas Magnum and co. when the series made its NBC debut for its fifth season. A reboot of the 1980s series starring Tom Selleck, the new show bears a lot of similarities to its predecessor. However, one of the most notable differences is that Hernandez's version of the lead character doesn't sport a suave mustache like Selleck's. With this, Hernandez explained why he doesn't rock the infamous stache.
Jay Hernandez himself has a very strong fanbase, and I'm sure plenty of fans wouldn't have minded seeing him sport a mustache on the show. However, the actor told Yahoo! Entertainment that despite Magnum's infamous mustache being a trademark of the OG show, he didn't necessarily need it for his own series. He explained:
Tom Selleck, who now stars on the long-running Blue Bloods, took audiences by storm in the '80s with his cool demeanor and finely trimmed facial hair. It would honestly be hard for someone to grow a mustache that truly matches his. Plus, Jay Hernandez's current look for the character suits him and does help to further distinguish his take on the P.I. from Selleck's.
Speaking of Tom Selleck, he's had a stellar career, with Blue Bloods approaching 300 episodes. And that's saying something, as he admitted to thinking that Magnum P.I. is would be the only lucky part of his acting journey. Though the thought of Magnum reboot may have initially been unthinkable, the reboot has carved out its own path -- all while maintaining the adventurous spirit of the original.
The original Magnum has had quite an impact on pop culture, too. For instance, in 2018, a large group of men dressed like the OG Thomas Magnum (though were kicked out of a baseball game for catcalling women). That my not be the kind of homage that one expect to hear about -- and the result of that situation is cringey. However, the cosplaying is a testament to the show's cultural footprint.
I'm personally quite pleased that the 2018 revamp has succeeded. The series is fun, and Jay Hernandez is just too perfect in the role. And even though we won't see Hernandez bring back the mustache, Season 5 is still looking pretty good. For example, now that Magnum and Juliet Higgins are together, the writers can play with a number of interesting storylines regarding their professional and romantic relationship. But who knows, maybe Magnum might end up donning a stache sometime down the road. I know Higgins probably wouldn't mind that a bit.
Tune into new episodes of Magnum P.I. on Sundays at 9 p.m. EST on NBC, and they can also be streamed using a Peacock subscription. And check out CinemaBlend's 2023 TV schedule for information on other shows headed your way this year.
Your Daily Blend of Entertainment News
Passionate writer. Obsessed with anything and everything entertainment, specifically movies and television. Can get easily attached to fictional characters.