Every Bloodline Member, Ranked By How Likely He Is To Betray Roman Reigns
So, who's it going to be?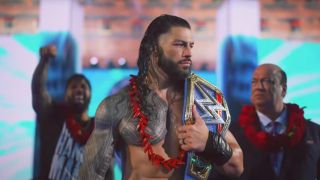 (Image credit: Peacock)
The Bloodline has been one of the best things to happen to WWE in a very long time, but as the saying goes "all good things come to an end," and it appears that we're in the final days of the stable's momentous run at the top of the company. With Sami Zayn having finally stood up for himself by attacking the Undisputed WWE Universal Champion at the 2023 Royal Rumble, Jey Uso's incredibly-crafted crisis of conscience, and in-fighting amongst the group in general, their dissolution has never seemed more likely than it is now.
But, who will stick with the Tribal Chief until the bloody end? Who will be the last of Roman Reigns' family to remain loyal while the others either betray him or simply walk out after all this time? Let's pull out our crystal ball and try to predict how The Bloodline angle will play out either before or after we get off the Road to WrestleMania.
5. Sami Zayn
Sami Zayn has already turned on Roman Reigns at this point, but leaving off the hottest babyface WWE has seen in years seemed like a disservice to his story with The Bloodline and how it has panned out the past few months.
After suffering months of verbal abuse and physical torment by other members of the faction, including some serious head games by Reigns himself, Zayn finally stood up to WWE's top heel when he saved longtime friend Kevin Owens from a brutal post-match beatdown at the conclusion of the 2023 Royal Rumble event. Zayn was even given a title opportunity against Reigns at Elimination Chamber in February, but ultimately came up short thanks to outside interference from his former brothers-in-arms.
This one doesn't seem over yet, especially as the WWE Universe continues to push for Zayn to get another shot at Reigns on the Road to WrestleMania.
4. Solo Sikoa
Solo Sikoa, Roman Reigns' cousin (and The Usos' younger brother), who has proven his loyalty to The Bloodline time and time again since being called up to the main roster in 2022.
Since then, Sikoa has done everything from yank the referee out of the ring to prevent Drew McIntyre from defeating Reigns at Clash at the Castle, to brutally attacking anyone who attempts to get one over on The Bloodline. The silent killer's meanness and toughness in the ring, combined with his unmatched loyalty to the Tribal Chief make it seem incredibly unlikely that he betrays the WWE Champ in the immediate future or in the long term.
Plus, the idea of a more centralized Bloodline consisting of Reigns and Sikoa could be an incredibly dominant force, especially if they ended up taking the tag titles off The Usos in the event things go south.
3. Paul Heyman
Paul Heyman has served as Reigns' "Special Counsel" and most trusted adviser for the better part of the past two years, though there was about a month in late 2021 and early 2022 in which the Tribal Chief fired his longtime manager. Despite being cast aside and beaten down by the Universal Champion, Heyman has proven to be loyal to Reigns throughout it all, even helping him attack his former client and the original "Paul Heyman Guy," Brock Lesnar, at the 2022 Royal Rumble.
In the past, Heyman has had multiple clients who have helped him get paid, but with only one money maker left, turning on Reigns would mean losing out on money and power, which for someone like Heyman is an undesirable situation. This means it's very unlikely that Heyman makes any drastic decisions. Well, unless someone bigger and better comes around.
It's hard not to play devil's advocate when talking about Heyman, though, and so I can't go without addressing the fact that Heyman has walked out on clients before, like when he handed Reigns the WWE Title to attack Lesnar a little more than a year ago.
2. Jimmy Uso
Then there is Jimmy Uso, who honestly seems like he could go either way when it comes to sticking with Undisputed WWE Universal Champion Roman Reigns in The Bloodline.
On one hand, Jimmy was the first to attack Sami Zayn after the former "Honorary Uce" hit Reigns over the back with a chair at the Royal Rumble and has been constantly showing his support for the Tribal Chief ever since. While a lot of this has to do with his brother having a bit of a crisis of faith the past few weeks, supporting Reigns means keeping the band together, which seems paramount to the other half of the WWE Tag Team Champions The Usos. Going off that, Jimmy has stuck with Reigns through it all, through every beatdown at the hands of his cousin, through every decision he made with Zayn, everything.
On the other hand, Jimmy and Jey are twin brothers and they have an incredible bond that trumps everything else in The Bloodline, in WWE, and in life. A bond that only twins can fully understand. That being said, the only way I see Jimmy turning on Reigns is if the Tribal Chief tries to make an example out of Jey and beat him mercilessly. Then, and only then, does it seem like Jimmy would turn his back on Reigns and The Bloodline in general.
1. Jey Uso
Though Jey Uso hasn't physically attacked Roman Reigns at this point or fully walked away from his family in The Bloodline, the WWE Tag Team Champion has all but given up on his stablemates in recent weeks, especially after refusing to beat down Sami Zayn on multiple occasions.
Still, Jey turning on Reigns seems like it's a matter of "when" instead of "if," and it's only a matter of time before the longtime Bloodline member finally goes his own way for good. This could very well lead to a one-on-one match with his brother, Jimmy, at WrestleMania (like Bret Hart vs. Owen Hart at WrestleMania 10 or Matt Hardy vs. Jeff Hardy at the event's 25th anniversary). Or, it could very well lead to Jey challenging Reigns, settling things between the two cousins once and for all.
A lot could happen to The Bloodline in the coming weeks and months, especially with 2023 Royal Rumble winner Cody Rhodes coming for Undisputed WWE Universal Champion Roman Reigns at WrestleMania 39. One thing that is for sure is that you can watch this evolving story unfold at the various upcoming WWE events streaming live for anyone with a Peacock Premium subscription.
Your Daily Blend of Entertainment News
Philip grew up in Louisiana (not New Orleans) before moving to St. Louis after graduating from Louisiana State University-Shreveport. When he's not writing about movies or television, Philip can be found being chased by his three kids, telling his dogs to stop yelling at the mailman, or yelling about professional wrestling to his wife. If the stars properly align, he will talk about For Love Of The Game being the best baseball movie of all time.