How Winning The Royal Rumble Affected The Last 10 Winners
Quite the company to keep.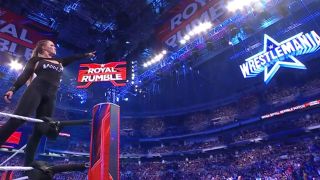 (Image credit: WWE)
In a few short days, 60 WWE Superstars will enter the Men's and Women's Royal Rumble matches and compete for the opportunity to challenge for a championship of their choosing at WrestleMania 39. Over the course of the past few weeks, a growing list of wrestlers have announced plans to enter the two over-the-top battle royals, but only one male and one female superstar will stand atop the turnbuckle, point to the massive sign hanging from the rafters of the AlamoDome, and earn a spot at the upcoming two-day event.
Before we look to what the future holds for Cody Rhodes, Liv Morgan, Seth "Freakin" Rollins, Rhea Ripley, and other superstars who will be in the match, it wouldn't hurt to take a step back and see how winning the Royal Rumble affected the last 10 winners (going back to 2018). We're here to answer questions about championship matches, title reigns, and others dealing with the immediate and long term impact of winning the Rumble.
Shinsuke Nakamura (2018)
In January 2018, Shinsuke Nakamura, the "King of Strong Style," won the Royal Rumble match in his first attempt, earning a title match against WWE Champion (and former NJPW foe) AJ Styles at WrestleMania 34.
Following a losing effort in an otherwise outstanding match that played on his history with Styles, the fan-favorite Nakamura turned heel with a low blow, which resulted in a drawn-out feud between the two. The two-time NXT Champion would go on to find success in WWE's midcard, winning the US and Intercontinental Championships two times apiece, yet never reaching the levels of his first year on the SmackDown brand.
Asuka (2018)
Asuka, who was unbeaten in WWE at the time of her Royal Rumble debut (which happened to be the first women's version of the event), outperformed the likes of Becky Lynch, Sasha Banks, and Trish Stratus to earn a title match against SmackDown Women's Champion Charlotte Flair at in 2018.
Though she came up short in her match against Flair, Asuka would ride a wave of success throughout 2018, a year that was capped by winning the SmackDown Women's Championship that December. Since then, Asuka has remained one of WWE's biggest stars, winning the Raw Women's Championship on two occasions, the 2020 Money in the Bank, and other accolades.
Becky Lynch (2019)
After adopting the moniker "The Man" in late 2018, Becky Lynch went on a run on the same level as Daniel Bryan's 2013-2014, the "Summer of Punk," and Attitude Era "Stone Cold" Steve Austin, which continued on into 2019 by winning the Women's Royal Rumble match.
Lynch would go on to face SmackDown Women's Champion and Raw Women's Champion, Ronda Rousey, in a historic WrestleMania 35 triple threat match, the first all-female match to headline the "Showcase of the Immortals," and win in decisive fashion. "Becky Two Belts" would go on to break multiple records throughout her title reign, which would only come to an end after announcing her pregnancy in 2020, per ESPN (opens in new tab).
Seth Rollins (2019)
Seth Rollins, Becky Lynch's real-life husband, also had an incredible showing at the 2019 Royal Rumble, winning the Men's contest and a title opportunity against Brock Lesnar with the Universal Championship on the line.
After defeating him in the WrestleMania 35 opener, Rollins would go on to play back-and-forth for the Universal Championship with Lesnar that summer before losing it for good to The Fiend later that year. Though he hasn't held the top title since, Rollins has remained a hot commodity, especially with his 2022 feud with Cody Rhodes.
Charlotte Flair (2020)
In January 2020, Charlotte Flair added another achievement to her resume: Royal Rumble winner. But instead of challenging longtime rivals Becky Lynch (Raw Women's Champion) and Bayley (SmackDown Women's Champion), Flair turned her attention to NXT Women's Champion Rhea Ripley at WrestleMania 36.
Night Two of the 2020 event opened with the second-generation WWE superstar winning and claiming the NXT title for the first time since leaving the brand nearly five years earlier. Since then, Flair has continued to be one of the most successful wrestlers in the world, winning multiple championships and high-profile feuds.
Drew McIntyre (2020)
Drew McIntyre, who was once viewed as "The Chosen One" in Vince McMahon's eyes, made an incredible comeback in the years after first being let go by the company, culminating in a career-defining performance at the 2020 Royal Rumble.
McIntyre would go on to successfully challenge WWE Champion Brock Lesnar to a headlining match at WrestleMania 36, but what was supposed to be a big match ended up being the start of a muted title reign in which he never defended the title in front of a live crowd. Things would turn around for McIntyre down the line, including a great showing against WWE Universal Champion Roman Reigns at Clash at the Castle 2022, and it could keep getting better with a dominant performance at Royal Rumble 2023.
Bianca Belair (2021)
One year after eliminating eight other wrestlers, Bianca Belair won the 2021 Women's Royal Rumble, proving to the world that she was the "EST of WWE" and was here to stay. A little more than two months later, Belair proved herself once again by defeating Sasha Banks to capture the SmackDown Women's Championship at WrestleMania 37.
Despite a quick loss to a returning Becky Lynch at SummerSlam later that year, Belair had a banner year, which was capped off by being named the top-ranked wrestler on the Pro Wrestling Illustrated "Women's 150" list. And, she hasn't stopped since.
Edge (2021)
One year after returning at the 2020 Royal Rumble, Edge capped off one of the most remarkable career turnarounds in modern history (he was out for 10 years with a neck injury) by winning the 2021 Men's match.
Though he wasn't successful in his triple threat match against Daniel Bryan and Universal Champion Roman Reigns, Edge did help the "Tribal Chief" put on one of the best matches of his career.
Ronda Rousey (2022)
Following a nearly three-year absence from WWE, Ronda Rousey returned at the explosive (literally) 2022 Royal Rumble, which she won to earn a shot against SmackDown Women's Champion Charlotte Flair at WrestleMania 38.
Though her attempt at defeating Flair was unsuccessful, she would go on to defeat her longtime foe at WrestleMania Backlash the following month. Rousey would go on to lose, win, and lose the SmackDown Women's Championship in the second half of 2022, with the most recent and final loss being against a returning Flair on the final SmackDown of the year.
Brock Lesnar (2022)
Despite only being in the 2022 Royal Rumble for a little more than two minutes, Brock Lesnar eliminated five superstars on his path to victory, which earned him another crack at Roman Reigns in a WrestleMania 38 main event match.
Lesnar would go on to win the WWE Championship at Elimination Chamber 2022, which made his third WrestleMania contest against Reigns "Winner Takes All." The "Beast Incarnate" would end up losing the bout, but the pair would meet again in a "Last Man Standing" match to conclude their feud at SummerSlam 2022, with Reigns ultimately winning.
Only time will tell what the future holds for upcoming winners of the 2023 Royal Rumble, but the only way to know for sure is by watching the big show, and other upcoming WWE events, on Peacock Premium.
Your Daily Blend of Entertainment News
Philip grew up in Louisiana (not New Orleans) before moving to St. Louis after graduating from Louisiana State University-Shreveport. When he's not writing about movies or television, Philip can be found being chased by his three kids, telling his dogs to stop yelling at the mailman, or yelling about professional wrestling to his wife. If the stars properly align, he will talk about For Love Of The Game being the best baseball movie of all time.