The 8 Most Memorable Japanese WWE Superstars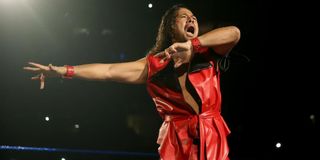 In the past 100 years or so, there have been some pretty amazing Japanese wrestlers that have risen through the ranks of professional wrestling and become heroes and legends of the sport. While most of these wrestlers have made names for themselves in promotions like New Japan Pro Wrestling, All Japan Pro Wrestling, and Pro Wrestling Noah, there have been quite a few who have crossed over to a more international audience in companies like Pro Wrestling Guerrilla in California, Progress Wrestling in Britain, and WWE in America.
And speaking of WWE, formerly called the World Wrestling Federation, the promotion has long been a place for some of the biggest names from Japan to reach newer and bigger audiences on the international stage, and many have found unparalleled success and become legends of the squared circle. Here are eight of the most memorable Japanes WWE superstars in the long and storied history of America's premiere wrestling promotion.
Asuka
When Asuka was first signed a developmental deal with WWE in the summer of 2015, no one really knew just how dominant of a performer the Japanese wrestler would be over the course of the next five years. The first female Japanese wrestler to be signed by the company in two decades, Asuka quickly rose in the ranks NXT, eventually becoming the brand's women's champion in a match at TakeOver: Dallas in April 2016.
Over the course of the next few years, Asuka would continue to thrill fans and dominate opponents with her flashy style, flurry of kicks and punches, and one of the most feared submission move, the Asuka Lock. The momentum remained strong for Asuka as she transitioned to the main roster, securing multiple championships, including the Raw Women's Title, which she won at SummerSlam 2020 after defeated Sasha Banks.
Shinsuke Nakamura
Long before he came over to WWE in April 2016, Shinsuke Nakamura was already one of the most popular wrestlers in the world thanks to his signature style that made him look like a cross between Freddie Mercury, Michael Jackson, and the hard-hitting strongstyle wrestlers of 1990s Japan. Seriously, this guy just oozed charisma and became perhaps the most successful IWGP Intercontinental champions in the history of NJPW. And that continued over into America when it was announced Nakamura was signing with the biggest company in the world.
Shinsuke Nakamura's first match with Sami Zayn at TakeOver: Dallas in April 2016 is still one of the greatest examples of professional wrestling of the past 10 years. The way those two carried themselves in a perfectly paced exhibition of raw talent is something to behold, and it served as a precursor of things to come for WWE's latest international talent. And while Nakamura hasn't found the level of intensity and championships as he did with NJPW, the 40-year-old star is a one-time Royal Rumble winner, two-time NXT Champion, and one-time Intercontinental champion.
Kari Sane
Kari Sane came over to WWE in 2017 after spending the previous five years in the Japanese women's wrestling promotion World Wonder Ring Stardom, and didn't waste any time making a name for herself. Soon after signing the developmental deal, Sane won the inaugural Mae Young Classic and used the victory as a platform to propel herself into the hearts of wrestling fans around the world. Not only does Sane have a hard-hitting style that is unlike most of what you see in WWE, she's got flash and style to go with it.
When Kari Sane makes her way to the ring for each match, she is dressed like a fantastical pirate, sometimes even bringing a steering wheel of a boat with her. And with WrestleMania 36 originally slated to be held at Raymond James Stadium (which has a pirate ship in the stands), the world would have gotten to see Sane make use of the display for what surely would have been an entrance for the ages.
Último Dragón
Growing up, Último Dragón was my favorite wrestler. The high-flying masked Japanese wrestler was a fixture of World Championship Wrestling's cruiserweight division on Monday Night Nitro each week, and I was obsessed with each and every one of his stellar matches. And it turns out I wasn't the only one. Wrestling fans around the world couldn't get enough of Último Dragón, who at one point concurrently held 10 titles around the world (here's a picture to prove it).
Último Dragón would bounce around between America, Mexico, and Japan for most of the 1990s and ended up spending a year and some change in WWE in the early 21st Century where he participated in a number of great matches with the likes of Rey Mysterio, Eddie Guerrero, and several others in the short amount of time he was with the company.
Hideo Itami
Before Shinsuke Nakamura and Asuka crossed over to WWE, there was Japanese standout Hideo Itami (who wrestles as KENTA elsewhere) who made his NXT debut in 2014. For those who don't remember, it was a BIG deal when Itami left Japan to wrestle in NXT, so much so that the news was announced during the middle of a July 12, 2014 show in Osaka, Japan. Shortly after signing with the company, Itami was built as a monster in the ring and quickly proved to be more than just hype.
Less than a year after joining the company, Hideo Itami won an NXT tournament for the final spot in the Andre The Giant Memorial Battle Royal at WrestleMania 31, where he was put on the big stage with tens of thousands of fans chanting his name and his signature move, The GTS (Go To Sleep). After that however, Itami suffered a series of injuries and setbacks before returning as a heel on WWE's 205 Live program. He would remain in that position until his departure in 2019, at which point he signed with NJPW and began wrestling under the KENTA name once more.
Jushin Thunder Liger
Jushin Thunder Liger has technically only wrestled two matches in WWE before his 36-year career came to an end in January 2020, but his match at the bout at the 1990 WWF/AJPW/NJPW Wrestling Summit, and then his contest at NXT TakeOver: Brooklyn in 2015 were more than enough to earn the famous masked Japanese wrestler a spot in the WWE Hall of Fame in 2020. And although he had only been a part of two WWE events, the fans during his 2015 NXT match treated him like he was Hulk Hogan, Stone Cold Steve Austin, or The Rock with the chants and round of applause he received.
For those not aware, Jushin Thunder Liger is one of the most highly-decorated wrestlers to ever step into a ring, having appeared at shows for various promotions all over the world since he first laced up his boots and put on his iconic mask back in 1984. Since then, he has become an 11-time IWGP Junior Heavyweight Champion, a one-time WWF Light Heavyweight Champion, and fixture at the top of countless professional wrestling rankings.
Antonio Inoki
Next, there's Antonio Inoki, who will forever go down as one of the most important figures in all of wrestling for his contributions to the sport over the years. Over the course of his career, which ranged from 1960 to 1998, Inoki founded NJPW, wrestling Muhammad Ali, defeated WWF Heavyweight Champion Bob Backlund (though WWF doesn't recognize the victory), and even negotiated the release of Japanese hostages held in Iraq prior to the Gulf War.
Despite not having much of a career in WWE outside of the bout with Bob Backuland in 1979, Antonio Inoki was inducted into the company's hall of fame in 2010 where he was inducted by one of his fiercest opponents, Stan Hansen.
Mr. Fuji
Whenever the name Mr. Fuji comes up, images of the manager throwing salt in the eyes of wrestlers, his iconic suit and hat, and the stable of fearsome international heels under his banner all come to mind, but WWE Hall of Fame Inductee's career didn't start and stop with him managing the Legion of Doom or Yokozuna. Over the course of his nearly 40-year career in and out of the squared circle, Japanese-American Mr. Fuji wrestler-turned-manager (real name Harry Masayoshi Fujiwara) was one of the most transformative and successful wrestlers and managers of Japanese descent.
Long before he donned his black hat and suit and walked wrestlers to the ring, Mr. Fuji wrestled all over the United States of American in promotions like Mid-Atlantic Pro Wrestling, Georgia Championship Wrestling, and multiple stints in WWE (then called World Wide Wrestling Federation) throughout the 1960s to the mid 1980s at which point he became a manager. Sadly, Mr. Fuji passed away at the age of 82 in 2016, but his memory lives on.
Those are just eight of the phenomenal Japanese wrestlers who have made a mark in WWE over the years. Each has either made an impact or continues to do so, opening the doors for more wrestlers of different backgrounds to do the same in the years to come.
Philip grew up in Louisiana (not New Orleans) before moving to St. Louis after graduating from Louisiana State University-Shreveport. When he's not writing about movies or television, Philip can be found being chased by his three kids, telling his dogs to stop yelling at the mailman, or yelling about professional wrestling to his wife. If the stars properly align, he will talk about For Love Of The Game being the best baseball movie of all time.