WrestleMania 37: The Best And Worst Moments, Including Bad Bunny's Debut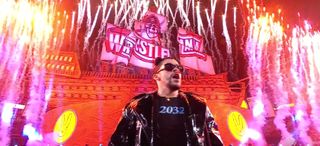 WrestleMania 37, while not the best Showcase of the Immortals in WWE history, was one hell of a time and was actually much better than anyone expected it to be. With several outstanding 2021 WrestleMania matches, an electric atmosphere with tens of thousands of wrestling fans in the crowd for the first time in more than a year, and an overwhelming sense of optimism throughout, this year's big show was one for the ages.
While there was a lot of good, namely the two main even championship bouts, a potential match of the year with two longtime WWE standard-bearers, and some much need-improvisation, there were a few moments that would have been better off being cut from WrestleMania entirely. But hey, that's wrestling, right? Here are five moments I loved and five parts of WrestleMania that I personally don't think will end up on any Best of WrestleMania compilation on the WWE Network on Peacock anytime soon.
Best: Bianca Belair Defeating Sasha Banks In The Historic WrestleMania Night One Main Event
For the first time in WrestleMania history, two Black women headlined the Showcase of the Immortals, and Bianca Belair and Sasha Banks did not disappoint. Everything about this match was amazing from the champion and challenger's entrances to the emotional build-up during their introductions to the way their in-ring styles meshed so well throughout the championship bout. The best part, however, was Belair celebrating her victory on the Grandest Stage of Them All with tears in her eyes and an ear-to-ear smile on her face. It's crazy to imagine this is the same wrestler we were calling an up-and-comer with loads of potential barely a year ago.
Worst: The Women's Tag Team Turmoil Match
I've said it before and I'll say it again, there are few things that I enjoy less about WrestleMania than the shoe-horned multi-team tag team matches at the annual event. These matches rarely make any sense and are often forgettable messes, and the Tag Team Turmoil match at WrestleMania 37 was no different. I'm not trying to take anything way from any of the five teams that competed in the gauntlet, but this 14-minute match seemed like it was there just to fill time on a card that was split over two nights. At least the winners of the match — Natalya and Tamina — looked great challenging for the Women's Tag Team Championship the following night.
Best: Bad Bunny Pulling Off A Canadian Destroyer In His First Match
I will be the first to admit that I wasn't fully sold on the Bad Bunny/Damien Priest vs. The Miz/John Morrison tag team match going into WrestleMania, but man, oh man, was I never more excited to be so wrong before. Who knew Bad Bunny could go like that? Seriously! Pretty much everything he did in this match (his first, by the way) was amazing, but the icing on the cake was the Canadian Destroyer (being called the Bunny Destroyer) he pulled on John Morrison at ringside. No joke, I've watched this video way too many times over the past few days.
Worst: Logan Paul Distracting From The Kevin Owens And Sami Zayn Match
For every great celebrity guest at WrestleMania there has to be one that serves absolutely no purpose other than having a big name show up during the event. That honor went to YouTube sensation Logan Paul who, for some reason or another, was made part of the Kevin Owens and Sami Zayn match on Night 2. Why does WWE do this? Why? Just let these longtime friends/enemies, who have been working together for 15 years, do what they do best and give the fans an outstanding match. Instead, there were constant cuts to the less annoying of the two Paul brothers who honestly looked like he would much rather be someplace else. We were all thinking the same thing.
Best: WWE Superstars Cutting Unscripted Promos During The Rain Delay
WrestleMania 37 certainly started off in a rather unique fashion with an extended rain delay before the first match even got underway. And while the delay wasn't the way anyone thought the show would be kicking off, it was actually a fantastic moment. In order to kill time, the powers that be decided to do what fans have wanted for a long time: unscripted, impromptu promos from wrestlers getting ready to wrestle later in the night. This gave the show an unpredictable and old-school feel, and it honestly felt like I was back in the south watching TBS try to kill time during all those Braves rain delays. Bring on the TBS Chimp Spots.
Worst: Hulk Hogan Fumbling Through The WrestleMania Welcoming
No one can ever take anything away from Hulk Hogan's legacy and how he helped revolutionize the wrestling industry, but watching him fumble through his lines (while getting heavily booed from a hometown crowd) at WrestleMania 37 was one of the saddest things I've seen in a long time. It was fun to see him at WrestleMania 30 back in 2014 (when he called the Superdome the Silverdome), but the Hulkster just doesn't have it like he used to, and it shows. Even without the racist comments and thoughts on vaccines, the time for Hogan to step away from the spotlight has come.
Best: Cesaro Finally Doing The UFO On The Grandest Stage Of Them All
Aside from winning the inaugural Andre the Giant Memorial Battle Royal at WrestleMania 30, Cesaro hasn't had a lot of great moments on the Grandest Stage of Them All. That changed this year with his stellar match against Seth Rollins that ended up being one of the best of the weekend. And while Cesaro's Swing (23 times!) and Neutralizer were great, the cherry on the top was the rarely used UFO, a variation of the Airplane Spin he hadn't used in front of a live crowd since his days in the indies (he used it in the pre-taped WrestleMania 36 but there was no audience).
Worst: Shane McMahon's Stupid Punches In The Steel Cage Match
Shane McMahon has given WWE fans some of the most insane and death-defying spots in recent WrestleMania history, and his Steel Cage match against Braun Strowman was par for the course at WrestleMania 37. One thing that was also brought out of Shane O'Mac's toolbox this time around was his arsenal of quick and light punches that insult the intelligence of every single person watching them land on Strowman's body. While fast and furious, his blows never really do anything and come off worse than that awful spot where Shane failed to climb down the cage.
Best: Roman Reigns Pinning Edge And Daniel Bryan At The Same Time
Remember the days when people threatened to cancel their WWE Network subscriptions when Roman Reigns won the 2015 Royal Rumble instead of fan-favorite Daniel Bryan? Remember when the former Shield member got booed mercilessly when WWE kept pushing him to the moon and back? Well, the Big Dog and Head of the Table got booed for all the right reasons in his Universal Title defense against Edge and Bryan at WrestleMania 37. The image of Reigns pinning both challengers to secure a victory all while getting booed by fans because he's actually a heel now was great to see after all these years.
Worst: WWE Squandering Yet Another Big Bray Wyatt Push
Despite getting monster pushes over the years, WWE always seems to pull the rug from beneath Bray Wyatt's feet at the worst possible time. It happened at his WrestleMania debut in 2014 with a loss to John Cena, then again the following year in a forgettable match with a post-Streak Undertaker, and then again this year with another match against Randy Orton, which he lost yet again. The match, which was my least favorite of the weekend, did absolutely nothing for Wyatt's character The Fiend besides make him look like a dope when he got distracted by Alexa Bliss (who looked terrifying by the way). Months of building up what could have been an outstanding match went out the window for that crap.
Those are some of the best, and worst, moments from WrestleMania 37, but there are others that should also be mentioned like Riddle having a fun interaction with WWE 2021 Hall of Fame inductees Rob Van Dam and The Great Khali. On a more personal level, however, the best moment of WrestleMania 37 came when the show started and my friends and I, who hadn't watched wrestling together in more than a year, all realized it was the start of a great night. And at the end of the day, that's all you can ask for…
Philip grew up in Louisiana (not New Orleans) before moving to St. Louis after graduating from Louisiana State University-Shreveport. When he's not writing about movies or television, Philip can be found being chased by his three kids, telling his dogs to stop yelling at the mailman, or yelling about professional wrestling to his wife. If the stars properly align, he will talk about For Love Of The Game being the best baseball movie of all time.
Your Daily Blend of Entertainment News
Thank you for signing up to CinemaBlend. You will receive a verification email shortly.
There was a problem. Please refresh the page and try again.