How WWE Can Turn Rhea Ripley And Judgment Day Into The Next Bloodline In 4 Easy Steps
There's so much talent here.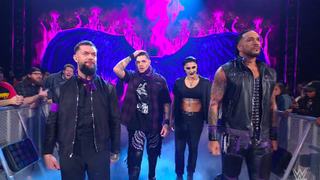 (Image credit: WWE)
Before I get into Judgment Day, I want to talk about Rhea Ripley for a minute. I think she has all the tools to be one of the greatest women's wrestlers of all-time. She's got a menacing look and is very physically imposing. She's capable of displaying both raw power and intricate mat skills in the ring, and while she doesn't talk as well as The Miz or LA Knight yet, her mic work is rapidly improving by the week to the point where it's a real asset. I have no idea how her career is going to develop, but I'm all for WWE putting the title on her and letting her cook for an extended period of time.
So, when I look at Judgment Day, I don't see an upper mid-card stable filled with fun personalities and talented characters. I see the support system for a performer that could well be remembered for decades to come. A good stable shouldn't just be a handful of wrestlers with a unified tone and consistent story direction. It should be a collective that elevates everyone who belongs to it— like The Bloodline.
To be clear, I'm not saying Judgment Day should be The Bloodline. It's never going to be exactly like The Bloodline, nor should it be. But what I am saying is that, in my opinion, Judgment Day has all the pieces to be the next big stable in wrestling. But there is work to do to get there. Triple H and the other writers need to push a little harder and get a little more creative. Here's my pitch for how I'd turn Judgment Day into one of the top attractions in 4 steps…
Step 1: Rhea Ripley Needs To Beat Charlotte Flair At WrestleMania
Every great stable needs a main event attraction. It was Ric Flair for the 4 Horsemen. It's Roman Reigns in The Bloodline. It was Hulk Hogan in nWo. It was Shawn Michaels at first and later Triple H in DX. That's Rhea Ripley in Judgment Day, or at least it can be. She's not at the same level as those other performers right now, at least not when it comes to star power, but her road to get there starts with a big, splashy WrestleMania win over an all-time legend like Charlotte Flair.
I would be shocked if WWE didn't at least complete this first step of the process. I'm a big Charlotte Flair advocate, but this current run seems like it was more about taking the title off Ronda Rousey, given the poor fan response, and less about anything in particular they're trying to do with Charlotte. Plus, I still think she works better as a heel. I'm glad she's getting a little time right now to soak in the cheers she's earned with years of stellar workmanship, but long-term, her place is always going to be as an antagonist. So, it makes all the sense in the world to give the belt to Rhea Ripley and let her start ascending.
Step 2: We Need To Start Getting More Interpersonal Dynamics Between The Judgment Day
Most of what we're given from The Judgment Day on a week-to-week basis are matches and promos setting up future matches. Obviously, I want that stuff, but we need more moments that are exploring the dynamics between the members themselves. There is so much potential here for layers, and as we've seen with The Bloodline, layers are what can help a long-term story keep building.
What the hell is really going on with Rhea and Dominik? Recently, we got a really fun Valentine's Day segment in which Dominik tried to use his father's credit card and got denied so she paid. We need more moments like that exploring the complexities of their actual relationship.
She doesn't actually like him, right? I think he's just there for her amusement, but I'd like to start seeing hints of that. And how weak is he? Can the other members peer pressure him into doing stupid and reckless things to prove himself? And what's going on with Priest and Rhea? It seems like they give each other looks now and again that make me think they're the ones really manipulating the whole situation. And how does Finn fit into the whole thing? There's so much potential material.
Step 3: Put The Tag Belts On Priest And Dominik
I think WWE is going to split up the tag belts after WrestleMania, and when that happens, I'd like to see Damian Priest and Dominik Mysterio win one of them. I think they have all the makings of a fantastic heel team, which we saw during the Tag Team Turmoil match. If it were me, I'd have Damian Priest dominate most of their matches and then have Dom occasionally tag in to beat up opponents who are already down. Every once in awhile, he could get caught and get the snot beaten out of him until Priest makes the save, but in general, that's the dynamic I'd go with. Then I'd have Dom brag about how incredible he is during every promo. He should completely undermine or refuse to acknowledge anything Priest does and just build himself up.
Fans love booing Dominik Mysterio, and I'm right there with them. There's something about his face that's really hateable, and Triple H and company are taking advantage of it. I'd like to see them push it further by putting him in increasingly high leverage spots. After WrestleMania, I don't think he needs to be in storylines with his dad anymore to maintain his heat, and working alongside Priest would be really helpful for each guy. Dom's not exactly intimidating and could use Priest's workrate and Priest could use Dom's nuclear heat.
Step 4: Let Finn Bálor Dominate The Mid-Card
There are probably some people reading this who think Finn Bálor should have another run with one of the big belts. I'm not necessarily against that. I like his character. I like the occasional Demon appearance. I think he's among the more skilled workers in all of WWE, but I'm not in favor of Judgment Day just immediately grabbing all of the belts. They don't need to be that dominant, and if they keep getting more heat, maybe they can get there at some point.
For now, I'd like to see Finn Bálor winning weekly matches against mid-card guys in which he looks really strong. The other members of The Judgment Day can watch from ringside as he beats up guys like The Miz, Chad Gable, Dexter Lumis and Elias. Maybe at some point that progresses to fighting for the Intercontinental or United States Championship, but for now, it's not about winning the belt. It's about showing him as a cocky and arrogant jerk who can have his way with most people in WWE.
To Sum Up
Right now, The Judgment Day is a nice mid-card stable that gets semi-premium television time. They're in better shape than 95% of WWE's roster, but I think there's all the makings here to turn the stable into something fans fondly remember for years to come. I think there's enough here to take the mantle from The Bloodline as WWE's premium faction if Roman, The Usos, Solo and Paul Heyman implode after WrestleMania. In order to do that, however, WWE needs to start pushing harder.
That stars with Rhea Ripley winning next month and beating Charlotte Flair, hopefully in convincing fashion in what could be a highlight moment of a stacked WrestleMania 39 match card. It should continue by packaging Damian Priest and Dominik Mysterio into a consistent tag team and it should also include Finn Bálor dominating the mid-card. With all those ingredients in place, the group should get enough screentime to start having segments where they explore themselves and the inner-workings of the group. It'll take skilled writers and some time, but there's enough talent here to create something really special.
You can check out WWE's next premium live event WrestleMania on April 1st and April 2nd in Los Angeles. It'll be streaming for free on Peacock with a subscription.
Your Daily Blend of Entertainment News
Enthusiastic about Clue, case-of-the-week mysteries, a great wrestling promo and cookies at Disney World. Less enthusiastic about the pricing structure of cable, loud noises and Tuesdays.