What Are The Chances Logan Paul Wins A WWE Championship Title In 2023?
Could Logan Paul win a championship?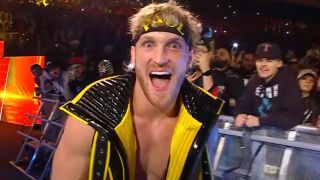 (Image credit: WWE)
If someone had told me that Logan Paul would be one of the most impressive WWE newcomers when he first started working with them, I would've laughed in their face. And yet, 2023 is here, and Paul has consistently proven that he not only belongs in the wrestling organization, but he could also thrive in it if he's interested. He's only gotten better with each performance, and now I'm wondering what the odds are that Paul holds a major WWE championship before 2023 ends.
That statement may still sound wild, but I believe there's at least a chance he'll be a United States, Intercontinental, WWE or even Universal champion before the year is up. Let's dive into some of the key reasons why and lay out the actual percentage of this happening once we're through.
Logan Paul Has Delivered On Every Opportunity He Has Been Given
The WWE has given Logan Paul a lot of opportunities that, quite frankly, aren't given to most newcomers in the WWE. This includes, among other major WWE moments, a main event title shot against Roman Reigns at Crown Jewel 2022. What's wilder is that the match wasn't an immediate squash situation, and Paul held his own and even had a highlight that brought the house down.
That big-time match ended up sidelining Logan Paul for a couple of months, but he soon returned at the 2023 Royal Rumble (opens in new tab) and delivered another highlight, which was the talk of the premium live event. Those, plus several other examples, have proven that Paul is not a fluke and is capable of delivering big-time moments on the grandest of stages.
That's probably why the WWE is angling toward a match between Seth Rollins and Logan Paul at WrestleMania 39, which is arguably one of the biggest matches he's had yet. Rollins is one of the brand's most recognizable names, so to book a match with him for one of the biggest nights of pro wrestling is a huge compliment to what Paul can do. I also see it as a show of faith by the WWE that Paul can be trusted to deliver a quality match with Rollins, which I'd see as a safe bet at this stage. If they trust Paul for this, it isn't hard to believe they'd trust him with a major title.
Logan Paul Is Massively Popular Outside Of WWE
Logan Paul is one of the more polarizing celebrities of the past decade, but he's managed to carve out a niche in the fighting and sports entertainment worlds. His drink Prime is now the official sports drink of the UFC, and fans will always remember his moneymaking exhibition boxing bout against Floyd Mayweather and all the drama that came from it. He may not be the most beloved star, but he's definitely a notable name that draws an audience.
What might be most important is that Logan Paul is a celebrity with a fanbase that may or may not be plugged into the WWE. I've definitely seen a few comments online after his matches from Paul fans who have talked about tuning in to see him, which has to make the powers-that-be at WWE very excited. If he's able to pull in audiences who haven't watched the WWE in some time, that's likely a big plus for the organization.
Homegrown talent is one thing, and a vital part of the WWE's success. With that said, guys like Roman Reigns and Seth Rollins are stars to wrestling fans and not quite as well known to the general public. Guys like Logan Paul bring a crossover element that can introduce new audiences, kids and adults alike, to its programming. Some might already be watching, but imagine how many more would tune in if he had a major title.
The WWE Is Comfortable With Giving Titles To Part Time Wrestlers
Most wrestling fans already know this, but those who haven't been around WWE should know that it's not at all uncommon for part-time wrestlers to be title holders. In fact, both Brock Lesnar and Ronda Rousey held two of the WWE's biggest championships ahead of WrestleMania 38. That's not an isolated incident either, as Lesnar definitely paved the way in the modern era for the champ that isn't always around.
Even in a potential future where all of its major champions are active, the WWE has already conditioned its audience to be invested in storylines where titles aren't on the line. I'll concede I'm not the biggest fan of seeing one champion hold the same title for close to three years, but it does open the door for an environment in which a champion doesn't compete for a month or two, and people are fine with it.
Logan Paul has shown up at a pretty decent clip for the WWE, but he's a busy guy. Between his podcast, videos and various other endeavors, it's understandable he can't walk away from that to be a full-time pro wrestler. The good news for him is that it's not necessary for the modern WWE, and he can feasibly still hold a major title while juggling his various other duties.
What Are The Odds Of Logan Paul Getting A WWE Title?
Personally, I'd put the odds of Logan Paul getting a WWE title somewhere in the ballpark of 70%. Granted, I'm assuming that his presumed match at WrestleMania 39 with Rollins will be a hit and he won't suffer another injury that sidelines him for a large chunk of time.
Assuming none of that happens, I can certainly see Logan Paul getting a legitimate shot at the United States championship and walking away a winner. I think Paul obtaining the WWE or Universal championship is still a bit of a reach at this point, but hey, stranger things have happened. I do not see Paul winning the Intercontinental championship unless Gunther drops it first, but again, there's no predicting the WWE. Still, I'm going to go out on a limb and say that barring any massive injury, Paul will be a champion at an upcoming WWE event.
Those who haven't had a chance to check out Logan Paul's matches should definitely pick up a Peacock Premium subscription to check them out. Only time will tell if Paul is a champ before the year is up, but I'm definitely excited to see what he has to offer all the same.
Your Daily Blend of Entertainment News
Mick likes good television, but also reality television. He grew up on Star Wars, DC, Marvel, and pro wrestling and loves to discuss and dissect most of it. He's been writing online for over a decade and never dreamed he'd be in the position he is today.