Superman: The Motion Picture Anthology Flies Onto Blu-Ray This Summer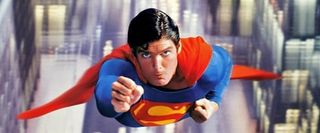 It'll still be a while until we see how the latest cinematic reboot of Superman fares under the stewardship of director Zack Snyder, but in the mean time Warner Bros. has good news for fans looking to revisit the previous films in style. Superman: The Motion Picture Anthology will be hitting Blu-ray on June 7th, collecting all five films, two alternate versions, and some 20-odd hours of bonus features. The eight-disc set will list for $129.95, and includes new high-def transfers for each of the flicks.
The date is obviously timed to tie into fellow DC hero Green Lantern's first foray onto the big screen ten days later, and in fact the set will include a Movie Cash coupon good for up to eight bucks off a ticket to check out Hal Jordan and his power ring.
Of course, this all begs the question: was anybody out there actually clamoring for copies of Superman III and IV on Blu-ray? I mean, I'm no great fan of Superman Returns, but at least it looks spectacular in high-def. Do we really need to be able to count every hair in Nuclear Man's fission-powered mullet? Most fans of the early Super-flicks have probably already picked up the first and/or second films on Blu-ray, and even if they haven't, I'm not sure how many folks will want to drop $130 on a set that includes several movies they don't care about. But hey, maybe I'm wrong. Maybe I'm underestimating the number of Superman III fans out there. I mean, I wouldn't mind watching Richard Pryor ski down the side of that building again.
Disc #1
Superman: The Movie, Original Theatrical
Commentary by Ilya Salkind and Pierre Spengler (Original Theatrical Version)
The Making of Superman: The Movie [1978 TV special]
Superman and the Mole-Men [1951 feature]
Super-Rabbit [1943 WB cartoon]
Snafuperman [1944 WB cartoon]
Stupor Duck [1956 WB cartoon]
Trailers
Disc #2
Superman: The Movie, Expanded Edition
Commentary by Richard Donner and Tom Mankiewicz (Extended Version)
Taking Flight: The Development of Superman
Making Superman: Filming the Legend
The Magic Behind the Cape
Superman
Lois Lane with Optional Commentary
Ursa
A Selection of Restored Scenes
Main Titles
Alternate Main Titles
The Council's Decision
The Krypton Quake
More Mugger/Introducing Otis
Air Force One
Can You Read My Mind (Pop Version)
Music Only Track (Donner Cut)
Disc Three
Superman II, Original Theatrical
Commentary by Ilya Salkind and Pierre Spengler (Original Theatrical Version)
The Making of Superman II [1980 TV special]
Deleted Scene
First Flight: The Fleischer Superman Series
Superman
The Mechanical Monsters
Billion Dollar Limited
The Arctic Giant
The Bulleteers
The Magnetic Telescope
Electric Earthquake
Volcano
Terror on the Midway
Theatrical Trailer
Disc #4
Superman II - The Richard Donner Cut
Commentary by Richard Donner and Tom Mankiewicz (Donner Cut)
Introduction by Richard Donner
Superman II: Restoring the Vision
Deleted Scenes
Japoteurs
Showdown
Eleventh Hour
Destruction, Inc.
The Mummy Strikes
Jungle Drums
The Underground World
Secret Agent
Disc Five
Superman III Theatrical Version
Commentary by Iilya Salkind and Pierre Spengler
The Making of Superman III (1983 TV Special)
Deleted Scenes
Theatrical Trailer
Disc Six
Superman IV: The Quest for Peace Theatrical Version
Commentary by Mark Rosenthal
Superman 50th Anniversary Special (1988 TV Special)
Deleted Scenes
Theatrical Trailer
Disc Seven
Superman Returns
Pt. 1 Secret Origins and First Issues: Crystallizing Superman
Pt. 2 The Crystal Method: Designing Superman
Pt. 3 An Affinity for Beachfront Property: Shooting Superman --Superman on the Farm
Pt. 4 An Affinity for Beachfront Property: Shooting Superman -- Superman in the City
Pt. 5 An Affinity for Beachfront Property: Shooting Superman -- Superman in Peril
Pt. 6 The Joy of Lex: Menacing Superman
Pt. 7 He's Always Around: Wrapping Superman
Resurrecting Jor-El
Deleted Scenes including the never-before-seen original opening to Superman Returns
Bryan Singer's Journals -- Video production journals
Trailers
Disc Eight -- Additional Bonus Material
Look, Up in the Sky! The Amazing Story of Superman [Hi-Def]
Pt. 1 -- Origin
Pt. 2 -- Vision
Pt. 3 -- Ascent
Pt. 4 -- Crisis
Pt. 5 -- Redemption
The Science of Superman [Hi-Def]
The Mythology of Superman
The Heart of a Hero: A Tribute to Christopher Reeve
The Adventures of Superpup [1958 TV pilot]