The New Features Coming In Star Trek Online For Consoles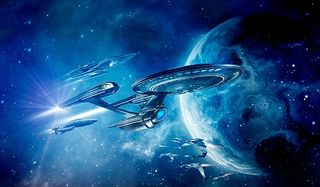 Star Trek Online is finally coming to consoles, but it won't be quite the same game fans of the series have been playing for years on PC. According to team members from Perfect Worlds Entertainment, the console version will sport a handful of enhancements on top of all content previously released on the game's original platform.
It was announced back in May that Star Trek Online will be boldly going to consoles, with a fall launch planned for both the PlayStation 4 and Xbox One. About a week later, Perfect Worlds announced that their other big MMO, Neverwinter, will be branching out from Xbox One to PlayStation 4 this summer, so it's safe to say they see a future for these types of adventures with a controller in hand.
I had the opportunity to sit down with representatives from Perfect Worlds during E3 2016 and give their games a quick test drive. Star Trek Online was running on an Xbox One, and the first thing that was explained to me was that Perfect Worlds had no desire to bring Star Trek Online to next gen consoles unless it looked like it belonged there. The game is half a decade old at this point, so they decided to give it a nice facelift to celebrate the occasion.
Textures have been redone, some layouts have been spruced up and a new lighting system promises a more dramatic look at the furthest reaches of space. New effects also make all of that sci-fi gunplay look more exciting. During my tutorial, a slideshow was on display showing off before and after images of Star Trek Online from PC to the console versions and the difference was definitely noticeable.
My demo began out in space and, I'll admit, I was terrible at it. That's no fault of the game, as I was trying to learn a completely new system in the span of about five minutes. What the team was able to get across while I blundered my way through combat, though, was how they cleverly mapped all of those options players are used to having on a full keyboard onto a 16-button controller.
As is common practice for MMOs on consoles, Perfect Worlds took full advantage of ability wheels. You have access to several abilities by simply pressing the D-pad or face buttons. Holding down a button grants access to an extra set of abilities mapped to those buttons, all of which are customizable.
One clever trick they added is the ability to highlight multiple abilities and trigger them at once, rather than needing to activate them individually. In the thick of combat, if you've got a set of favorite buffs saved to an ability wheel, you can simply hold down the trigger and spin the thumb stick to select them all, triggering buffs aplenty in just a couple of seconds.
For the console version of Star Trek Online, you can also set abilities to trigger automatically, again with a nice bit of customization. If you know you like to have a certain ability trigger when you're low on shields you can, for example, set it up to go off automatically when your shields reach 25 percent.
There were far too many systems to learn in my short time with the game, but it was clear that Perfect Worlds gave plenty of attention to figuring out how to best bring Star Trek Online to consoles.
After I managed to bumble my way through a space fight, I was teleported to a planet that was currently under attack by the Borg. The game's new lighting was on full display here, with fired projectiles lighting up the environment as they flew through the air and passing ships casting shadows. This portion of the game played out more like a third-person shooter, complete with a control scheme that any fan of the genre will instantly feel comfortable with. The Perfect Worlds team explained that enemy AI was completely reworked for the console version, another nice tweak that should make things interesting even for longtime fans of the PC version of the game.
Look for Star Trek Online on PS4 and Xbox One this fall.
Your Daily Blend of Entertainment News
Staff Writer for CinemaBlend.