Neverwinter Is Getting A PS4 Release, Get The Details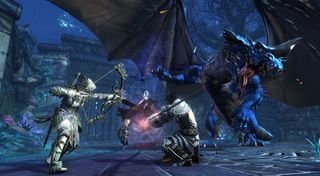 Perfect World Entertainment will be releasing Neverwinter, the online multiplayer role-playing game, onto the PlayStation 4 starting this summer. The game will feature everything that made the title popular on Xbox One and PC, and the best part about it is that you won't need PlayStation Plus to hop into the game.
Endgadget picked up the news after it was announced that the popular free-to-play MMO would be available on the PS4. Details on the port were spilled over on the PlayStation Blog, where Perfect World's communications manager Alex Monney explained that the game would be available to anyone who owns a PlayStation 4 and has a broadband internet connection. There's no requirement to sign-up and subscribe to PlayStation Plus, which is usually a standard for most MMOs or other online games where you can take your PS4 online and play with others.
The game is set within the world of the Forgotten Realms and based on the written works of R.A. Salvatore. Players will meet some of the classic heroes of the Dungeons & Dragons world, including Drizzit and Do'Urden. Players will also travel to Icewind Dale, which long ago had its own game, conveniently called Icewind Dale. You can see a quick trailer below that shows how the free-to-play MMO runs on the PS4.
Given that Neverwinter is now on all three major gaming platforms, PS4, Xbox One and PC, some of the commenters on the PlayStation Blog asked about cross-platform compatibility. One of the new things that have been cropping up more and more often these days is discussion about cross-platform playability.
Psyonix has been talking a lot about bringing cross-platforom playability to Rocket League, making it possible for Xbox One and PC users to play together and for PS4 and PC users to play against each other. The patch for Xbox One and PS4 users to play together is still stuck in limbo, though.
Unfortunately for Neverwinter users, it was mentioned that the game would not feature cross-platform compatibility. So PC users will not be able to play with PS4 users. Additionally, some gamers asked if it would be possible to import their PC accounts and characters over to the PlayStation 4 so that they could continue their progress in Neverwinter where they last left off. Unfortunately that's not possible, either. It would be cool if Cryptic Studios and Perfect World Entertainment decided to take advantage of the large PC userbase by allowing console and PC gamers to play together, but it doesn't look like it's going to be happening any time soon.
On the plus side, at least PS4 owners will be able to hop into the Dungeons & Dragons themed MMO and play the game without having to rely on a PlayStatoin Plus subscription. You can look for Neverwinter to go live at some point during this summer.
Staff Writer at CinemaBlend.
Your Daily Blend of Entertainment News
Thank you for signing up to CinemaBlend. You will receive a verification email shortly.
There was a problem. Please refresh the page and try again.