There Could Be A Killer Instinct/Mortal Kombat Crossover, According To Xbox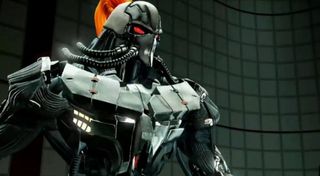 (Image credit: Microsoft)
Xbox head honcho Phil Spencer and Mortal Kombat creator Ed Boon had a friendly exchange on Twitter about the possibilities of a Mortal Kombat and Killer Instinct crossover. Nothing is set in stone but it sure is a mouthwatering idea.
Gamespot noted that Ed Boon responded to a couple of gamers talking about crossover potential with Mortal Kombat. They suggested Killer Instinct. Ed Boon responded by saying "I loves me some [Killer Instinct] but a crossover would have to be Xbox exclusive".
Xbox boss Phil Spencer somehow came wisping out of the woods of Twitter to offer his two cents, simply saying "Love this idea".
Gamespot wisely notes that none of this really means anything right now because it's just a Twitter conversation and nothing has been set in stone nor has there been any actual official announcements regarding a crossover game.
However, the article does point to the possibility of maybe trading characters between the Xbox One versions of Mortal Kombat X and Killer Instinct. It wouldn't be a bad idea and the gruesome nature of the Killer Instinct characters would fit right in with Mortal Kombat, or vice versa, with some Mortal Kombat characters being perfectly suitable for a role in Killer Instinct. Heck they've already had guest appearances from a Gears of War character, a Halo character and a Battletoad.
Erron Black, Kotal Khan and D'Vorah would be my top picks to make the leap from Mortal Kombat to Killer Instinct just because their style matches with the Killer Instinct themes. Of course, the two likely candidates to make the jump would be Scorpion and Sub-Zero, since they're the two most iconic characters from the franchise. Raiden wouldn't be a bad pick, either.
From Killer Instinct, I think Jago and Fulgore would be perfect for Mortal Kombat. In fact, I've always imagined Jago as the missing link between the two franchises. Fulgore, however, is just beastly. His fighting style, combos and special attacks scream Mortal Kombat. He's another character that looks like he came right out of NetherRealm Studios' cache of creative characters.
But character swapping aside, one of the other key points of discussion is an actual crossover game. The last time this happened within the Mortal Kombat universe was with the Mortal Kombat vs DC Universe game from back in 2008. It wasn't that great of a crossover and the character balancing was all off, but it did help pave a way for NetherRealm to craft Injustice: Gods Among Us out of the wreckage.
Personally, I think a Mortal Kombat vs Killer Instinct crossover would be perfect. The styles are definitely similar enough to make both franchises meld in a believable way. The ultra-violence also fits the theme of both games perfectly. The only thing they would have to tweak is how the combos work. In Killer Instinct you can string together some mean manual combos, whereas in Mortal Kombat they have more traditional combo filters.
Even still, a crossover of such epic proportions could really work wonders in getting people talking about and invested into the Xbox One. Whether or not Microsoft, Warner Bros., and NetherRealm will pull the trigger is an entirely different story.
Staff Writer at CinemaBlend.
Your Daily Blend of Entertainment News
Thank you for signing up to CinemaBlend. You will receive a verification email shortly.
There was a problem. Please refresh the page and try again.