How Yelp Is Changing For Pokemon Go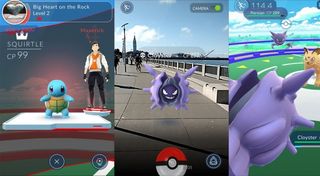 (Image credit: Nintendo)
Nintendo and Niantic Labs have really hit it out of the ballpark with Pokemon Go. It's infectious. It's engrossing. It's dangerous. And it's everywhere. In fact, the business locator, Yelp, is even getting in on the action given the popularity of the app and how young kids and adults are using it alike.
According to Engadget, Yelp is changing how they offer their services to users by adding in additional filters... filters that include things like whether or not a business will offer a PokeStop location for Pokemon Go.
The article is reporting that there is now a filter for PokeStops added to the mix when searching for businesses. The filter can be utilized when searching for businesses through the mobile app, in addition to other filters like "Happy Hour", "Good For Brunch", "Good For Lunch" or "PokeStop Nearby".
Engadget states that the PokeStop filter isn't necessarily embedded into Yelp's services through a Pokemon Go API. They're relying on customers and gamers to offer feedback on whether or not a location offers a PokeStop using the "Review A Business" option. Essentially after visiting a location you'll have the option of reviewing it and giving it your honest opinion. In doing so it may ask you a couple of questions about some of the features of the business, which may include whether or not a PokeStop location is nearby that place of business.
For the interim, it definitely helps Yelp become more Pokemon Go-friendly because people looking to catch a few Pokemon while out and about while also looking for specific business services can easily find what they're looking for through Yelp.
I'm sure sometime in the future Niantic Labs will likely work with certain business finders in order to help make the process a lot more painless and more integrated.
For those of you who don't know, Yelp is a business finder. You can use it search for locations and all sorts of other shops, ranging from nightlife nightclubs, to educational facilities to home services and event planning. If you check out their official website they'll attempt to locate your position through cookies and then offer up various businesses best suited for your needs.
In fact, over on Yelp in the conversation threads Pokemon Go is already one of the hot topics of discussion. Some people are mentioning that while out and about they see people everywhere with their heads neck deep into the phone while attempting to catch wild Pokemon. Others have praised the app because kids now can't wait to go outside and catch Pokemon, making it a great tool for exercise.
Some local attractions like zoos and whatnot are also trying to get in on the action, something that other larger chains have already worked with Niantic Labs and Nintendo on in order to become officially sponsored PokeStop locations, not unlike the officially sponsored gyms in the Pokemon television show or games.
Ultimately, Yelp is relying on users to provide feedback on PokeStops at the moment and it appears to be working because people can't wait to visit some locations in order to find rare Pokemon, but it's also another way for Yelp to help boost their own market profile, which is smart.
Pokemon Go is available right now in various territories, including the United Kingdom, Italy, Australia, Spain and the United States, and it will be launching soon in additional countries.
Staff Writer at CinemaBlend.
Your Daily Blend of Entertainment News
Thank you for signing up to CinemaBlend. You will receive a verification email shortly.
There was a problem. Please refresh the page and try again.