A Harry Potter Version Of Pokemon Go? People Are Trying To Make It Happen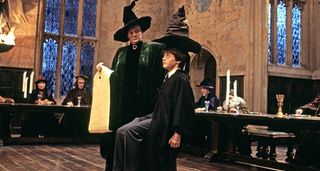 Pokemon Go has created a cultural phenomenon across the world with its augmented reality gameplay, but now a different kind of fanbase is asking for the AR treatment. Harry Potter fans have put together a petition asking for a Harry Potter version of Pokemon Go.
Fans have put together a petition that asks the creator of Pokemon Go, Niantic Labs, if they can put together an augmented reality game for Harry Potter fans. Titled, "Accio Harry Potter Go: We Want a Harry Potter Version of Pokemon Go!", the petition was started by Ashtyn Hannon, a 23-year-old Harry Potter fanatic who says she's been a fan for over 15 years.
Hannon admits she hasn't played Pokemon Go yet, but would certainly change her mind if it was a Harry Potter version of the game.
What Pokemon Go did was dig into a somewhat dormant and isolated fanbase who has recently been feeding off of 3DS Pokemon games, and blew it up into a phenomenon. And with how major the Harry Potter fanbase is, I feel like creating an augmented reality game for Harry Potter could do the same thing.
Very much like Pokemon fans, Harry Potter fans saw the true end to their series a while ago with the last film in the series, released years after the last book. And only recently have we been getting content to quell the fans like the upcoming film, Fantastic Beasts And Where To Find Them. But if these very same fans were given an augmented reality game, I think that same kind of madness would ensue. These are two very strong, very dedicated fan bases and to allow them the opportunity to step inside the worlds they love, they'll become obsessed. If you think about it, not even Pokemon has theme parks built around the game's concept, so it'd be cool to see just how big an AR game for Harry Potter could be.
Now if Harry Potter did get the opportunity to have its own AR game, I think it would have to play a little differently than Pokemon Go. There isn't really anything you can "capture" in _Harry Potter _except for magical creatures, but there has to be a means of collecting. Something inside the game has to be collected, maybe spells? Maybe magical pets? And once there's some sort of foundation for a motivation for people to want to play, then the game should take off as quickly as _Pokemon Go_. It would be interesting to see what the guys at Niantic Labs would do with a Harry-Potter-themed mobile game similar to Pokemon Go.
Aside from collecting things, there are so many different things you can do with an augmented reality Harry Potter app. The overly popular website among Harry Potter fans, Pottermore, kind of gives fans a taste of Harry Potter reality by allowing users to get sorted into houses and catch up on some reading by J.K. Rowling, but just imagine if we could experience the Harry Potter world in real-life. How it would work, I'm not exactly sure, but if someone could somehow figure it out, they'd make an absolute killing. And who knows, maybe augmented reality mobile games are the next big thing thanks to Pokemon Go.
If you would like to add your signature to the petition, you can do so by visiting the website.
Your Daily Blend of Entertainment News