When You Can Get The Second DLC Hero In Battleborn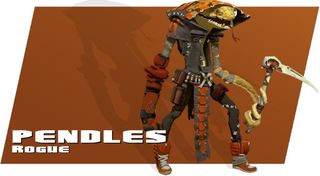 (Image credit: Gearbox Software)
Gearbox Software's Battleborn has managed to completely tank on the market. The game has not managed to enter into any of the top charts, but that hasn't stopped Gearbox or 2K from failing their duties in providing the post-launch DLC they promised gamers, and they just announced when it'll be made available on the market.
Game Informer is reporting that the second character DLC, called Pendles, will be released for season pass holders starting July 28. The DLC will also be made available to non-season pass holders starting August 4. The character Pendles will be available for 47,500 in-game credits. They don't mention in the story how much that translates into real money, but it doesn't sound too cheap.
Pendles will be the second of four characters due to release for Battleborn, the article doesn't mention if Gearbox has any other DLC planned to release thereafter for the MOBA-inspired first-person shooter. However, they do plan on unveiling the next DLC character just as Pendles drops for Battleborn, so we'll see who they have planned for release next on July 28.
The game managed to move more than 100,000 copies on PC but the peak total players, according to Steam Spy, barely goes above 1,000 a day. It's really, really sad.
The game was completely stomped out of the market by Blizzard's Overwatch, which released within the same window as Battleborn. Both games are colorful, first-person shooters with a comic book-style flair to their aesthetics. The major difference was that Blizzard managed to win over a lot of people with their fun and entertaining line-up of characters, which ran the gamut of personalities and variances to appeal to as wide a net of people as possible. Even in the face of controversy, Blizzard still tried to please as many people as possible with _Overwatch. _
Battleborn, however, never managed to really take off with the general public. Coming off a lot of sour impressions from Gearbox over their handling of Aliens: Colonial Marines, and some other issues stemming from comments made by Gearbox Software president Randy Pitchford, the general feeling in many gaming communities was that they couldn't trust Gearbox, that the company no longer had gamer interests at heart, and that they would no longer be supporting them in light of some of these events.
Of course, some die-hard Gearbox fanboys still held out and held true to supporting the company, and I imagine that's where their core sales have come from. However, the drop-off in sales have been significant since the game's release on May 2nd. They're currently trying to move units through the Humble Bundle Store with a steep discount on the $59.99 price point, bringing the game down to only $15. We'll see if the uber-cheap price will help move enough units to bring in a decent-sized audience (and if they can retain that audience).
For now, you'll be able to get your hands on the new Battleborn character Pendles when he goes live next week on July 28, if you have a season pass. If you don't have a season pass you'll be able to get your hands on the character two weeks from now on August 4.
Your Daily Blend of Entertainment News
Staff Writer at CinemaBlend.