Pokemon Go Will Be Getting PokeCenters In The Future, Get The Details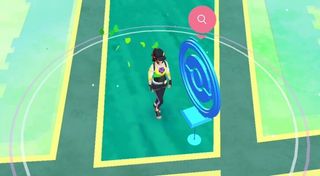 (Image credit: Niantic Labs)
Niantic Labs are already working on one of their most ambitious updates to Pokemon Go: PokeCenters. The new centers will feature the same kind of mechanics that gamers are used to from the Pokemon franchise.
According to ComicBook.com, they're reporting that Niantic Labs' CEO John Hanke confirmed that PokeCenters are a serious item on the list of things to do for Pokemon Go. It's high up on the priority list as they attempt to improve the overall playability of the game and change up how gamers interact with some locations within Pokemon Go.
The PokeCenters can supposedly be converted from nearby PokeStops. The article indicates that the conversion will be possible from players, but it doesn't go into detail how that process will actually take place. I assume if enough players go to a PokeStop they can then access an option to convert it to a PokeCenter?
Anyway, the article explains that PokeCenters will have some customization options designed to give each one something unique to specialize in as a way to encourage people to travel around and find different PokeCenters. Some of them may be hospitals that can be used to heal Pokemon, just like in the other titles for the Nintendo handheld portables.
ComicBook.com also speculates that the PokeCenters in Pokemon Go could be used for Day Care Centers to raise Pokemon. This might be useful for potentially picking up eggs and having them hatch over time at the Day Care Centers. There's also the speculation that training dojos might also make an appearance at PokeCenters.
Unfortunately the actual purpose and functionality of the PokeCenters weren't fully detailed by Hanke, so until more information is made available it's just going to be a lot of speculation about what's coming and how it's going to be implemented.
The article does state that Hanke explained that Pokemon Training was a huge part of their goals and that they wanted to add it into Pokemon Go as soon as possible. It's speculated that the training and the PokeCenters could go hand-in-hand together in one of the newer updates.
Niantic Labs has been very busy lately trying to stabilize the game's servers while also opening the game up in new regions. The developers are consistent in trying to maintain a balancing act between new servers and new content being added to Pokemon Go.
The game has proven to be extremely popular for Niantic Labs and Nintendo and has made both companies quite a bit of money both in revenue generated in-game and from the stock market.
Niantic Labs is also introducing sponsored locations in Pokemon Go starting with a deal with McDonald's in Japan. With the introduction of PokeCenters it's completely possible that we could end up seeing sponsored centers attached to specific locations.
While the game is still extremely popular, it wouldn't be surprising to see some other big businesses and chains attempt to get in on the action, that's assuming that the PokeCenters will arrive in a timely fashion before the Pokemon Go fad wears off and most casual mobile users find something new to dedicate their time to.
Your Daily Blend of Entertainment News
Staff Writer at CinemaBlend.