Five Nights At Freddy's Sister Location Will Be Opening Soon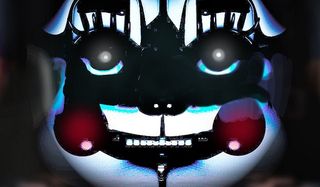 For you horror fans in the audience, or perhaps folks who just really enjoy games about fictional dining establishments, it looks like we finally have a launch window for Five Nights at Freddy's: Sister Location.
With the Halloween season nearly upon us, it makes sense that folks' thoughts would start turning to things like trick-or-treating, witches flying past on broomsticks and, you know, terrifying and murderous animatronic nightmares.
For those of you looking to get in some Halloween gaming, it looks like you might be able to visit Five Nights at Freddy's: Sister Location just in time for the spookiest holiday of the year. According to the game's Steam page, this newest chapter in the terror-filled series is due out October 2016.
To be fair, Five Nights at Freddy's games have been known to launch a little early, so we might actually have an opportunity to visit the Sister Location anytime in the next couple of months. Barring that, it sounds like October is a safe bet for when the devilish festivities will kick off, giving players all new reasons to sleep with the lights on.
The first trailer for Sister Location went live just a couple of months ago, and it proves creator Scott Cawthon is a big fan of adjectives. According to the short clip, players can expect panic, dread and terror while adventuring deep below ground, "where memories sleep" and "anger is relentless." If you have a fear of animatronics AND clown babies, you might want to cover your eyes.
According to the game's official description, Freddy's sister site is actually called Circus Baby's Pizza World, because who wouldn't want to have their birthday party at a place called freaking Circus Baby's Pizza World?
The site promises more family fun and interactivity than you'll typically find at other pizza joints which, if we're basing this entirely off of previous games in the series, is a bit of an understatement.
In the game, you'll take on the role of a freshly hired new late night technician who must enjoy spending time in cramped spaces and feels comfortable "around active machinery." Circus Baby's Pizza World, of course, is "not responsible for death or dismemberment."
If all of that sounds like a barrel of laughs to you, then you might want to keep your eyes peeled for Sister Location this October.
The Five Nights series has made quite the name for itself over the years, leading to multiple games, loads of merchandise and even real world pizza joints with the word "Freddy" in the name being bombarded by ridiculous phone calls. We imagine the phrase Circus Baby is going to be a big hit, too.
Your Daily Blend of Entertainment News
Staff Writer for CinemaBlend.