Five Nights At Freddy's World Trailer Gives Us First Look At Spinoff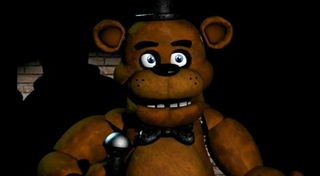 Scott Cawthon has made a serious name for himself in the world of indie gaming. It's hard to keep track of horror games without at least knowing about Five Nights At Freddy's. Well, Cawthon is trying his hand at the RPG genre and he's given us the first look at the new game in the Freddy franchise.
Game Informer spotted a new update over on the Steam page for Five Nights At Freddy's World, where a teaser trailer was linked. The teaser trailer comes courtesy of Cawthon's YouTube channel.
The trailer finally reveals what the gameplay looks like and how players will be able to choose from the vast assortment of characters in the Five Nights At Freddy's universe to put together a party and battle through a bright and color theme park setting.
The game will feature all of the various incarnations of Freddy Fazbear and his friends as players are able to level them up in a non-horror setting, reminiscent of classic overworld JRPGs from back in the 16-bit era of gaming.
There's actually a spin-off of Five Nights At Freddy's that actually already took those popular characters and placed them in an RPG setting. It has the rather vulgar name of Five Nights At F**kboy's and it was designed by independent developers Sable Lynn and Joshua Shaw using the RPG Maker VX. The most recent iteration of the game actually managed to garner more than 200,000 players.
Five Nights At F**kboy's gameplay was mirrored after the SNES classic, Earthbound, with players having to battle various entities within the pizza parlor using a first-person, turn-based combat system. The game was notable for being extremely hard and I wonder if Scott Cawthon's Five Nights At Freddy's World will mirror the difficulty of Lynn and Shaw's title or if it will be more toned down to appeal to the casual, young audience that seems enraptured with Freddy Fazbear and his animatronic friends?
Cawthon states on the Steam page that a demo of the game is planned so that players will be able to get their hands on the role-playing title and see for themselves if it's a worthy successor to the Five Nights At Freddy's brand or if it'll just be a simmered down spin-off.
I'm just amazed at how far the brand has come in such a short amount of time, starting off as a rather crude point-and-click horror title that eventually evolved into a massive gaming phenomena. That's not to mention that Five Nights At Freddy's is getting its own movie, which should prove to be very interesting.
Cawthon states that updates will be rolling out for the new RPG over the next couple of months, so keep your eyes peeled.
Staff Writer at CinemaBlend.
Your Daily Blend of Entertainment News
Thank you for signing up to CinemaBlend. You will receive a verification email shortly.
There was a problem. Please refresh the page and try again.