The NES Classic Will Offer Multiple Viewing Modes, Get The Details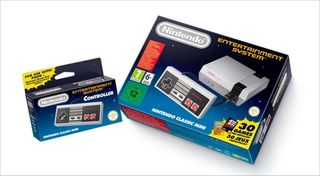 (Image credit: Nintendo)
The Nintendo mini-console, appropriately named the NES Classic, will come with a bit more than what you may have been expecting. There will be multiple viewing modes embedded into the console's options, allowing purists to view some of the classic 8-bit titles either in retro-vision or with enhanced pixel options.
Gamespot is reporting that the NES Classic will feature 4:3 aspect ratio, a CRT mode and a Pixel Perfect mode. The first will give gamers a basic 4:3 aspect ratio so that the games fill out your television viewing area. Depending on the quality of your TV and the size will likely determine how good the games look blown up on your screen at 4:3.
The CRT mode is exactly what it sounds like. The mode is designed to give gamers a look at each of the NES classics as they were meant to be played on a classic CRT television. For certain FGC tournaments, CRT televisions are used because they limit frame lag and tearing, which can really disrupt a session if there's a hiccup on newer televisions or the hertz aren't high enough to keep up with the refresh of the game. Some other games have also offered CRT-style modes, even for LCD monitors, such as Super Indie Karts, which bends the corners of the screen and attempts to emulate the old boob tube.
The CRT mode also features classic scanlines, according to Gamespot. If you wanted the CRT look but without the scanlines they don't mention if there is an option to turn them off or fine tune them so they aren't quite as evident. But I'm sure modders will figure something out once the mini-console actually launches.
The last of the three modes is the Pixel Perfect mode, which is designed to show every pixel as a "perfect square". The idea is that it's supposed to be the most accurate display for the NES titles, giving gamers a clear picture of what the titles are supposed to look like, with Nintendo mentioning that the mode represents how the games were originally designed.
The NES Classic will come with 30 games for the price of $60. As noted by Gamespot, you won't be able to add or remove games from the console's library. The mini-console is designed where you get what you pay for and nothing more and nothing less. That basically means you're getting a bunch of classic games from Nintendo for $2 a pop.
That's not a bad price but the fact that you won't be able to upgrade the library or, worse yet, you might be forced to buy a separate mini-console for a different library of games would limit the appeal. It would have been pretty cool if it were like some of the Sega mini-consoles that are out and about on the market where you can upgrade them and add new games through SD cards.
Essentially these mini-consoles are just emulators with stripped down GUIs. If you're okay with that then it's all fine and dandy, but it does seem a little bit like a step back when there are already better emulation opportunities out there where you can easily hook the system up to your living room TV and enjoy classic games from the 8-bit and 16-bit era.
You can look for the NES Classic to launch on November 11th next month at participating outlets.
Your Daily Blend of Entertainment News
Staff Writer at CinemaBlend.