Minecraft's October Update Has An Awesome Trailer, Watch It Now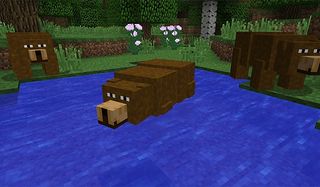 All these years later and Minecraft is still going strong. Over on the console front, the developers are gearing up to launch a brand new update in October, and they've even put together a spiffy trailer to show off what's in store.
The Minecraft community is as strong as ever, so it makes sense that the team would want to keep rolling out content on every front. While there's plenty of fun to be had on PC and mobile, the build-it-yourself game is moving full steam ahead on consoles too, which is where this newest update from 4JStudios is targeting.
This latest Minecraft trailer is all about alliteration, as it introduces "Banners, blocks, beets and bears." That's a fitting title, as it explains exactly what console gamers will be getting in Minecraft once the new update goes live tomorrow, Oct. 4.
Sure, these features have been available elsewhere for a while now, but anything that brings all forms of Minecraft closer to parity is considered a good thing in our book.
As you'll see in the trailer, picking the right banner can be a tricky task. If you've decided on a color pallet or a specific theme for one of your structures, you'll want to create a banner that fits it well. Thankfully, you can create said banners to your heart's content once the new update comes out. Similar to signs, these bad boys can also be used as a quick way to guide folks through your level. Using a good banner, you can let folks know if a certain cave system is rich with rare ore, guide them to your stables or warn of certain dangers.
New blocks are always welcome in Minecraft, as they give you fresh ways to create whatever you've cooked up in your imagination. Sadly, there's no list of what new blocks are being added to consoles this week, so we suppose you'll just have to load up the game and be surprised.
As for the final two B's in the bunch, console players will now be able to grow a new beet crop, and you'll also finally be able to encounter bears in the wild. The beets you can eat and the bears are for watching as they majestically wander through the wilderness. Only a monster would kill and eat a bear in Minecraft.
And that will about do it for the October update. At this point, we've basically lost track of what is available on what platforms. If there's something missing from the console version of Minecraft that you'd like to see added next, we'd love to hear about it in the comments below.
Your Daily Blend of Entertainment News
Staff Writer for CinemaBlend.