How You Can Play Overwatch For Free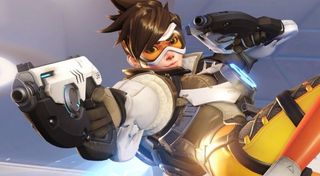 (Image credit: Blizzard)
Blizzard will be offering gamers an opportunity to play Overwatch for free, but only for a limited time. This offer will extend multiple platforms and contain a number of playable heroes, modes and maps for gamers to mess around with for the colorful, team-based first-person shooter, which launched earlier this year.
According to Polgyon Overwatch will be free to download and play between November 18th starting at 11:00am PST and ending on November 21st at 4PM EST, over the course of the weekend starting next week.
You can play for free on PC if you have a Battle.net account.
If you're playing on PlayStation 4 you will need a PSN ID and a premium PlayStation Plus account.
For Xbox One owners you will need an active GamerTag and an Xbox Live Gold subscription.
The free version of Overwatch will require approximately 12GB of hard drive space no matter what platform you choose to play on.
The free weekend will also include access to 22 of the game's heroes and will allow you to play across 13 maps in Quick Play, Custom Games and the Weekly Brawl game types. Gamers will also have access to Assault, Escort and Control game modes. The maps and modes will support up to 12 players in the standard 6-vs-6 format.
The Competitive Mode will not be available for gamers during the free Overwatch weekend, and the new hacker character, Sombra, will also not be available during the weekend. Sombra was recently added as part of the Public Test Realm before becoming a full member of the roster and available for everyone.
Overwatch originally launched back in May of this year for the Xbox One, PS4 and PC and managed to become one of the best-selling and most played games this year. It rivaled Gearbox Software's Battleborn during May but the rivalry wasn't very competitive, as Battleborn died rather quickly right out of the gate, barely coming close to selling a fraction of what Blizzard's shooter managed to accomplish.
While Gearbox struggled to find a way to make their shooter more engaging, Blizzard reaped a lot of benefits from having a game that was accessible enough to be appealing to casual fans but offering enough skill depth to be eSports ready. This mixture of having easy pick-up-and-play mechanics yet hard to master team strategies proved to be a winning formula and they managed to lure in more than 20 million registered players between May and October of this year.
The Competitive Mode also opened the game up for a strong eSports community, something Blizzard has been fostering as of late with many of their games outside of StarCraft 2.
While the Competitive Mode may be off limits to gamers during the free weekend next week, I'm sure Blizzard is banking on the other modes being enticing enough to get gamers hooked on Overwatch so that they eventually take the dive and pick up a copy on PC, Xbox One or PS4. All you'll need is 12GB of free hard drive space and the appropriate online account to participate.
Your Daily Blend of Entertainment News
Staff Writer at CinemaBlend.