One Feature Of Star Wars Battlefront II Will Only Be On Consoles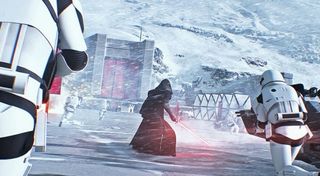 (Image credit: Electronic Arts)
There's been a lot of hype and talk about the officially revealed content for Star Wars: Battlefront II from DICE, Motive, Criterion and Electronic Arts. One of the talking points that almost slipped under the radar is a console exclusive feature that PC gamers won't be happy about.
Game Informer did a quick write-up on the news where they revealed that PC gamers won't have an offline split-screen mode in Star Wars: Battlefront II.
This shocking revelation came about in a weird way. First of all, media were asking Electronic Arts about the split-screen options for the game, since it was one of the things that was poorly done in the original DICE outing of Star Wars: Battlefront. Few modes, few features, and few options for the split-screen made a lot of long-time Star Wars: Battlefront fans angry given that split-screen was one of the biggest selling points from the earlier versions of the game more than a decade ago. You could play through every single mode and every single map with a friend on the PS2 and Xbox versions of the game.
The PC version of Star Wars: Battlefront II did not support native local split-screen play. You could pull off some virtual machine wizardry to get local split-screen to work, but it wasn't originally built into the game.
However, back in 2004 and 2005 PC split-screen gaming wasn't quite as common as it is now. There are a lot of games with split-screen or local co-op play. In fact, there are more than 3500 titles on Steam alone that support split-screen or shared screen local play, ranging from indie games to AAA titles.
Quite naturally, journalists were hounding down EA for answers about whether or not the PC version of DICE's Star Wars: Battlefront II would have split-screen. Eventually, the Xbox News Wire (opens in new tab) posted up an entry saying that the split-screen mode was exclusive to the Xbox One. This was later retracted and updated to say that the split-screen was console exclusive and not Xbox exclusive. Game Informer was then able to confirm with Electronic Arts that the split-screen mode in the upcoming title is only going to be available for the Xbox One and PS4.
The reasons for this is kind of baffling given that with Big Picture Mode becoming more and more popular with people playing their PC games on big screen TVs instead of monitors (including yours truly) it would seem like having the split-screen option would really lure in more PC gamers. However, EA decided to opt out of that feature for Star Wars: Battlefront II.
Now there's really no telling how the platform pipelines and support are set up within the Frostbite engine to make split-screen play viable on PC. For instance, we know that in the Unreal Engine (since the release of Unreal Engine 3 more than a decade ago), it already has split-screen built natively into its design, no matter what platform you're making your game for. In fact, if a game has multiplayer but doesn't have split-screen, it means the developers had to purposefully remove or disable it, since it's automatically enabled at the source level.
In this case, we don't know if DICE decided to just avoid adding in split-screen for PC, or if they ran into some other time constraints and decided it wasn't worth it, or there was some other roadblock to contend with. Since EA no longer releases games on Steam, there's also a matter of native controller support for PC, which you lose out on if you don't integrate Steamworks into your game. So there's a myriad of reasons why Star Wars: Battlefront II may not have split-screen for offline play, but at least the game will still feature online play for PC.
Staff Writer at CinemaBlend.
Your Daily Blend of Entertainment News
Thank you for signing up to CinemaBlend. You will receive a verification email shortly.
There was a problem. Please refresh the page and try again.