Why Beyond Good And Evil 2 Has Taken So Long, According To Ubisoft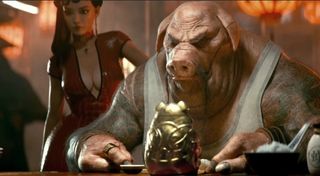 (Image credit: Ubisoft)
It seems like gamers have been waiting forever for Beyond Good and Evil 2, the sequel to the 2003 action-adventure game that came out for home consoles and PC. Well, Ubisoft finally explained why it's taken so long to make Beyond Good and Evil 2.
According to IGN, the reason for not revealing the game sooner was because it had to be just right, and that required the right kind of technology that Michel Ancel had to build from the ground up. Ubisoft managing director Xavier Poix told the media outlet,
So this Voyager tech is basically like what Hello Games made for No Man's Sky, only it doesn't sound like there will be procedurally generated planets.
Xavier Ancel is heading up the project, and has been working on the game for the last three years. There have been teases about the project through Instagram and other little notes that the creative director let loose out over social media. However, for the most part, Ancel has been tight-lipped about Beyond Good and Evil 2 up until this past year's E3. All before then we knew that something relating to the game was coming but we didn't know what exactly.
The game was officially unveiled with a boorish and crude cinematic trailer, featuring a mixture of humans and animals engaged in an action sequence that saw a Rasta-inspired monkey fleeing from a pig crime boss. The monkey joined up with a human on a flying motorcycle type vehicle, as they made their escape onto another ship, and then flew that ship into an even bigger ship.
According to Xavier Ancel, the different ships and vehicles demonstrated during the cinematic will be in the actual game. The developers had to design a new engine from scratch to handle Ancel's vision for the_Beyond Good and Evil_ sequel.
Some gamers are a little bit worried about this level of ambition. Some studios have tried it and failed, such as Hello Games. Other studios have tried it and found out that it required gutting an engine and completely restructuring it for the purpose of interplanetary travel, which is what happened with Star Citizen.
It sounds like a really tall order to include space travel, inner city exploration, physics-based destruction, combat, questing, and a grand story to top it all off. If the game had been in development for 10 years, it would seem like a plausible feat, but three years really seems to be pushing it.
Nevertheless, Ubisoft CEO Yves Guillmot and Ubisoft managing director Xavier Poix believe that the new Voyager engine is a serious step forward when it comes to a long-term solution for keeping Ubisoft at the top of the technological race in the AAA space. There's no sense in waxing poetics about Beyond Good and Evil 2 just yet, because all we have to go on is a cinematic. But we'll see just how well the Voyager can handle Ancel's vision when some real-time gameplay finally emerges.
Staff Writer at CinemaBlend.
Your Daily Blend of Entertainment News
Thank you for signing up to CinemaBlend. You will receive a verification email shortly.
There was a problem. Please refresh the page and try again.