Diablo 3 Will Be Free To Play This Weekend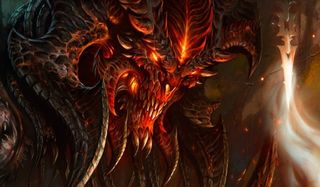 If you don't already have weekend plans, maybe you'd like to go straight to hell? If you're gaming on the Xbox One, that's entirely possible since Blizzard and Microsoft have announced that Diablo 3: Ultimate Evil Edition will be free to try out for the next few days.
The folks over at Gamespot are reporting that the latest game in the Diablo series will be free to play through the weekend. As a matter of fact, you can get cracking on your gratis tour of the hellacious underground starting today, so long as you're an Xbox Live Gold member.
Diablo III is up for grabs now on Xbox Live and will be available until Monday, July 31, at 11:59 p.m. That gives you four full days to dive into everything the game has to offer, including the core game and everything included in the Reaper of Souls expansion. That expansion introduced a whole bunch of new in-game content, including new skills, runes and the Crusader class. It also plugged in the Adventure mode, which opened the map up for bounty hunts. The only thing missing from this version of the game is the recently released Necromancer DLC, which included the titular class character and a few other extra goodies.
Again, since you will be downloading the entire game for this free trial, you can tackle all five chapters of the Diablo III campaign, as well as all of the other modes. And, if you've got some friends hanging around, they can jump into the action, too.
These types of free weekends are becoming more and more common, as developers and publishers are discovering it's a much easier way to get players to try their game rather than building a separate demo. Plus, it's probably extra enticing to folks who enjoy their time during a free trial to just straight-up buy the game afterwards, since they've already got it downloaded. As has been the case with these sorts of free weekends in the past, anyone who purchases the game will be able to transfer all of their progress from the free trial over to the full title.
Speaking of buying the full game, you'll be able to get Diablo III: Eternal Collection on the Xbox Store for a limited time for just $39.35, which is 35 percent off the usual price. That version of the game will include everything from the Reaper of Souls edition, as well as the Rise of the Necromancer DLC mentioned above.
We don't want to tell you how to spend your time this weekend but, since it's totally free to try with no strings attached, you don't really have anything to lose if you want to take Diablo III for a spin. Again, this is an Xbox One exclusive, so try not to be disappointed if you fire up your PlayStation 4 or PC and can't find the same offer.
Staff Writer for CinemaBlend.
Your Daily Blend of Entertainment News
Thank you for signing up to CinemaBlend. You will receive a verification email shortly.
There was a problem. Please refresh the page and try again.