How You Can Win An Xbox One X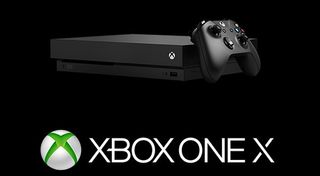 (Image credit: Microsoft)
Microsoft has decided to team up with a fast food chain in order to help spread the word about the Xbox One X ahead of its November 7th release. Well, not only is Microsoft attempting to spread the word but it's also giving away some free Xbox One X's as part of a giveaway at the tail end of summer.
Over on the Xbox News site, Microsoft announced that Xbox and Taco Bell have teamed up, where gamers will be given free Xbox One X units this fall.
Starting on August 31st you will be able to enter a giveaway to win an Xbox One X by simply stopping by a local Taco Bell and buying a Steak Quesarito $5 box.
Each box will contain a unique code that can be texted in for entry into the giveaway. These codes will be included in the Steak Quesarito boxes between August 31st and October 4th.
During this time, potential winners will be notified on an average of every 10 minutes as to whether or not they will be able to get their hands on a free Xbox One X, along with a copy of Forza Motorsport 7, and three free months of the Xbox Game Pass subscription. Forza Motorsport 7 is one of the few native 4K games running at 60 frames per second.
There really isn't too much more to the promotion, and this is something that Taco Bell has been doing with a lot of new game consoles that are prepping to release. They did the same for the PlayStation 4 back in 2013 when it was about to release.
The Xbox One X is Microsoft's new premium mid-generation refresh, so I suppose they're expecting to get 10 years of service out of the Xbox One. The premium-priced console features a complete overhaul of the technology based on what's in the Xbox One. While it's still running on architecture similar to the Jaguar, Microsoft put a lot of time and effort into the Xbox One X's GPU power, so that it can run games at 4K and sometimes even at 60 frames per second.
One of the major drawbacks for now is that the Xbox One X will not have exclusive games made for it, but instead will share games with the vanilla Xbox One. This means that we won't be able to see what the system could do if it weren't being bottlenecked by what would effectively be cross-gen games from the Xbox One.
I don't know how well 4K will go over with the general public, but Sony decided to diversify in both pseudo-4K and VR with the PS4 Pro. Sony's approach is basically that if 4K doesn't take off it can always fall back on VR, and if VR doesn't take off it can always fall back on 4K. If neither take off? Well, then it's screwed. However, Microsoft is hedging bets on the 4K route, hence the focus on putting so much power under the hood.
Right now there aren't too many games on the horizon that have been announced at 4K and 60fps. Destiny 2 will be 4K at 30fps, which has frustrated some gamers, but if they manage to get an Xbox One X for free from Taco Bell, there won't be too much to complain about... right?
Your Daily Blend of Entertainment News
Thank you for signing up to CinemaBlend. You will receive a verification email shortly.
There was a problem. Please refresh the page and try again.