Listen To Need For Speed: Payback's Entire Soundtrack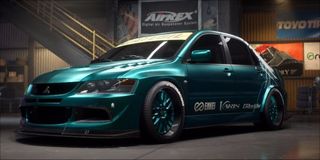 (Image credit: Electronic Arts)
Electronic Arts and Ghost Games have made it possible to listen to the entirety of the Need For Speed: Payback soundtrack ahead of the release of the actual game. The game is due out next month on November 10th, but you can grab a listen to the game's full soundtrack consisting of both licensed music and the original music made for the game.
The news went live over on the official Need For Speed website, where Electronic Arts revealed that you can check out the soundtrack if you have the Spotify app on your mobile device.
The Spotify playlist contains 45 different songs from a lot of recognized names in the music industry, including people like Jaden Smith, Run The Jewels, Queens of the Stone Age (who seem to be a staple in the Need For Speed franchise since Need For Speed: Underground), Syd Arthur, The Amazons and X Ambassadors. You can check out the full playlist below.
A$AP Ferg: Trap and a Dream feat. Meek Mill
Action Bronson: The Choreographer
Barns Courtney: Kicks
Bite the Buffalo: Enemies
Bonobo: Kerala
Chase & Status and Blossoms: This Moment
DJ Shadow & Nas: Systematic
Duckwrth: MICHUUL.
Flowdan: Original Ragamuffin feat. Wiley
Formation: Buy and Sell
Goodbye June: Liberty Mother
Gorillaz: Ascension feat. Vince Staples
Haikaiss: Raplord feat. Jonas Bento
Ho99o9: City Rejects
Jacob Banks: Unholy War
Jaden Smith: Watch Me
K.Flay: Black Wave
Kano: 3 Wheel-Ups feat. Wiley and Giggs
Kontra K: Power
Lethal Bizzle: I Win feat. Skepta
Lil' Kleine: Kleine Jongen
Local Natives: Dark Days (Sofi Tukker Remix)
Mondo Cozmo: 11 Acre
Nothing but Thieves: I Was Just A Kid
Ohana Bam: Rebels
Otherkin: Bad Advice
P.O.S: Gravedigger
Queens of the Stone Age: The Way You Used To Do
Rae Sremmurd: Perplexing Pegasus
RAT BOY: BOILING POINT
Royal Blood: Lights Out
Run the Jewels: Panther like a Panther (Miracle Mix) feat. Trina
Salmo: Daytona
SHREDDERS: Flipping Cars
Skepta & Goldie: Road Trip
SOHN: Hard Liquor
Spoon: Pink Up
Stormzy: Return of the Rucksack
SUR: Lean Back
Syd Arthur: Evolution
Ten Tonnes: Silver Heat
The Amazons: In My Mind
Tom Morello feat. Leikeli47: Roadrunner
Tom Walker: Play Dead (Avelino x Raf Riley Remix)
Warbly Jets: Fast Change
Watt: Burning Man feat. Post Malone
X Ambassadors: The Devil You Know
It's also worth noting that EA seems to definitely have a favorite when it comes to soundtracks given that X Ambassadors had the song "Jungle" that was done in collaboration with Jamie N Commons used extensively throughout the promotion of Battlefield: Hardline, which came out back in 2015. The game itself had a hard time catching on with audiences due to a backlash from the community over feeling as if it was little more than a cash-in and was the equivalent of Battlefield 4 DLC, but EA spared no expense to promote the game with a flurry of high-profile trailers.
Also, for those of you who actually enjoyed the original soundtrack music composed for Need For Speed games will be pleased to know that Joseph Trapanese has worked on the OST for Need For Speed: Payback. For those of you unfamiliar with Joe's work, he's put in the time with some well-recognized names and properties, including Tron: Legacy, Oblivion starring Tom Cruise, and one of my all-time favorite films, The Raid. Trapanese has quickly become a recognized name for providing symphonic soundtracks with a synth edge to them.
What's more is that the music isn't just there just to be there. According to the post, EA has fine tuned the music to play according to where players are in the mission and what time of day it is or what's happening on-screen. So the dynamic soundtrack will kick in depending on contex in the free-roam modes.
During the other modes you'll also experience electronic and ambient beats... such as when you're fine-tuning your car and modifying your paint job so your ride looks sleek and sexy as you're tearing up the asphalt and kicking up dust.
Racing will have a completely different set of songs, mostly based around the "intense" tracks provided by artists like Queens of the Stone Age and Warbly Jets.
Drifting events will also have their own set of tunes in Need For Speed Payback, mostly themed around hip-hop and breakbeats, including an unreleased track from Tom Morello featuring Leikeli47.
There appears to have been a lot of time and effort put into crafting the music for the game, and if you're already signed up with Spotify you can grab a listen to the soundtrack for Need For Speed: Payback right now.
Your Daily Blend of Entertainment News
Staff Writer at CinemaBlend.