The 10 Most Anticipated Games Of 2018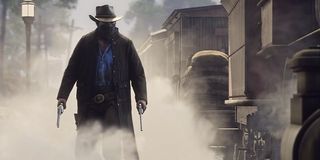 This past year has been absolutely insane for video games, with a ridiculous number of fantastic AAA and indie titles hitting the scene in quick succession. Looking ahead, we're starting to think that 2018 will offer an equally stellar lineup of games, some of which we've been anticipating for quite some time.
It wasn't easy work, but we've managed to slim down our selection of highly anticipated games to the 10 titles we're most eager to get our hands on. We also tried to focus on games that seem the most likely to actually launch during their projected 2018 windows, so don't be upset at the lack of games like Kingdom Hearts 3, The Last of Us 2, Shenmue 3 and whatever the hell FromSoftware recently teased at The Game Awards. We're absolutely looking forward to those games, we just aren't as confident that they'll actually be playable in the next year. We'd love to be proven wrong, though. So, without further ado, here's our selection of the 10 most anticipated games for 2018.
Dragon Ball FighterZ
Set to launch Jan. 26 for the PlayStation 4, Xbox One and PC, Dragon Ball FighterZ looks to continue the fantastic chain of fighting games we've seen arrive over the past year. The 2017 calendar boasted games like Injustice 2, Tekken 7, and Marvel vs. Capcom Infinite, as well as more unique offerings like ARMS and Pokken Tournament DX. Despite all of that, Dragon Ball FighterZ looks to overshadow the lot of them. It's got a great roster of well-known characters, insane graphics and a fighting engine that lets you feel like you're acting out a legendary battle from one of the most popular anime in the world. It's been a long time coming, and we can't wait to finally play this latest brawler from the team at Arc System Works.
Shadow of the Colossus
If you've ever played one of the previous iterations of Shadow of the Colossus, you likely understand why the second remake of a PlayStation 2 game still manages to hold down a spot on our list of most anticipated games for 2018. Launching for the PlayStation 4 on Feb. 6, this latest version of the classic adventure game is more than an "HD remake." The whole game has been rebuilt from the ground up, making it as breathtaking today as the original was back in 2005. There's also a new control system for those who felt the original was a bit clunky, which is a welcome addition. Team Ico made Shadow of the Colossus a game for the ages, so we're excited that this new version will give a new generation of gamers a chance to see what all of the fuss is about.
Monster Hunter World
We were already excited to play Monster Hunter World, and then we got our hands on the game's open beta. Launching on the PlayStation 4, Xbox One and PC on Jan. 26, this latest iteration of the beloved cooperative series looks to be the most accessible offering to date. All of that Monster Hunter crunchiness is still there, but several welcome tweaks to the staple systems should make this outing a little easier to digest for newcomers looking to bring down mammoth beasts for the first time. Also, the game world is finally open for load-free exploration, which is pretty rad. Finally, while we love gaming on our portable devices, having MHW on these other platforms means it should be way easier to team up and go on massive hunts with friends and randos alike.
Far Cry 5
Ubisoft is clearly eager to take the Far Cry series in interesting new directions. They already caught us off guard with Primal and are surprising us all over again by setting the latest game in strange and exotic...Montana? Launching March 27 for PS4, Xbox One and PC, this latest Far Cry game pits players against a murderous religious cult in America's heartland, which is truly a far cry from settings and narratives of the past. The inclusion of more dynamic allies is a nice touch, one of which is a dog who will fight baddies and actually fetch weapons and ammo for you. "A very good dog" should be a bullet point on the back of the box.
Anthem
Of all the entries on this year's list of most anticipated games, Anthem is the one we're most anxious about. Coming from the BioWare team that worked on the first three Mass Effect games, this cooperative shooter looks to have a lot of Destiny in its DNA. Expect a big, open world, loads of shooting and loot aplenty. You'll be able to tackle missions solo or with teammates, all in a seamless environment that appears to reside directly adjacent to MMO territory. Our concern is that EA is publishing and, given all of the latest trends, Anthem seems like the kind of game that is tailor-made for abundant microtransactions and loot box integration. But we don't want to write it off on a knee-jerk fear, so we remain cautiously optimistic. It's set to launch for PS4, Xbox One and PC sometime in 2018.
Sea of Thieves
It feels like Sea of Thieves has been in development for a decade but, based on what we've seen out of the latest trailers and development diaries, it looks like the wait was likely worth it. Launching March 20 for the Xbox One and PC, Sea of Thieves puts you in control of a thrill-seeking pirate. As best we can tell, the game is a semi-MMO that lets players team up and take to the high seas with friends and enemies alike. You'll rely on each other to set sail, explore islands and, of course, look for buried treasure. It looks like there's a lot to uncover in Sea of Thieves, and we look forward to doing exactly that in early 2018.
Days Gone
At a glance, this PlayStation 4 exclusive set to arrive sometime in 2018 looks super familiar. You've got a gruff protagonist and a world gone mad thanks to the sudden arrival of the walking dead. It's a set-up we've seen a million times in recent years, but Days Gone looks to introduce a few interesting twists to the formula. For starters, the game doesn't mess around with the idea of "one zombie can be scary, too." No, they're more interested in throwing literally hundreds of zombie at the player, all in a highly detailed, post-apocalyptic world where the people you come across can be just as dangerous as the ocean of shambling horrors. Also, there's a zombie bear. You can't go wrong with a zombie bear.
Spider-Man
Spider-Man is set to swing onto the PlayStation 4 sometime in 2018 and, at this point, we're super excited to finally get to play this game. The talented team at Insomniac Games is behind this latest outing for the beloved web-swinger and, based on the copious amounts of promotional material we've perused over the past couple of years, things are shaping up quite nicely. Spider-Man looks to combine the combat of the Arkham series with all sorts of nifty contextual events and gadgetry thrown in to make things interesting. If we're being honest, we're just really, really looking forward to swinging around the city, as the locomotion in the game looks to be top-notch.
God of War
Another PlayStation 4 exclusive, God of War is set to arrive sometime during Q1 2018, though we wouldn't be surprised to see at least a small delay at this point. What we're most excited about with the new God of War is that it sheds the vast majority of norms established by the previous half-dozen games in the series. Kratos' motivations have changed, the setting and enemies are different and even the camera and combat have received a major overhaul. We love the God of War series but, much like with Resident Evil VII, it's high time the series forges a bold new path. We're looking forward to seeing where that path leads.
Red Dead Redemption 2
Since Red Dead Redemption 2 was originally supposed to arrive this past fall, we feel pretty confident that the highly-anticipated sequel from Rockstar Games will see the light of day sometime over the course of the next 12 months. It's coming out for the PlayStation 4 and Xbox One, and we wouldn't be surprised if PC gets added into the mix at some point. A prequel to the original Red Dead Redemption, this latest game will tell the tale of the gang of cowboys that helped original protagonist John Marston rise to notoriety. We adored the first Red Dead Redemption and, based on what little we've seen up to this point, the sequel will offer another wild ride through the Wild West.
Your Daily Blend of Entertainment News
Staff Writer for CinemaBlend.