Your Owl Finally Arrives In First Harry Potter: Hogwarts Mystery Trailer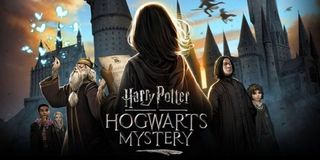 Admit it; you'd abandon whatever you're doing this very instant if an owl from Hogwarts arrived. While the chances of that actually happening are slim, we now have the next best thing thanks to Harry Potter: Hogwarts Mystery, an upcoming mobile game that lets you join the wizarding world of the boy who lived. And, poof, here's a fresh trailer for you.
Harry Potter is getting a lot of attention on mobile these days. A game set within the wizarding universe is the focus of the next altered reality offering from the team behind Pokemon Go, and then there's this adventure game from Jam City, letting players explore a story set before the popular book series.
In Harry Potter: Hogwarts Mystery, players will create their own character before receiving their invitation to Hogwarts School for Witchcraft and Wizardry. As you can see in the trailer, the game looks to offer the whole experience, from being sorted into a house to learning new spells and making friends around campus.
Hogwarts Mystery is now open for pre-registration on Google Play, so fans who want to start playing as soon as it becomes available might want to consider signing up. The game is coming to us courtesy of a partnership between Jam City and Warner Bros. Interactive Entertainment, with Portkey Games publishing the title sometime this spring. While there doesn't appear to be a pre-registration available in the App Store, Hogwarts Mystery will launch on iOS, too.
According to a press release from Jam City, Hogwarts Mystery will include narrative adventure elements, as well as RPG element. The new trailer gives a pretty solid feel for the game. It looks like your free time will be spent chatting up friends and teachers, as well as getting up to some mild mischief around Hogwarts. You'll also use swipe-based controls to learn and execute spells, which we assume will play into other areas of the game. As an example, maybe you need to learn to levitate something in order to progress a puzzle somewhere else in the game. As far as RPG elements go, we wouldn't be surprised if that includes things like friendship levels with other characters in the game, as well as stats for your various skills.
Hogwarts Mystery will have something in common with adventure games made popular by Telltale in recent years, namely that your choices in the game will influence your character's story arc at Hogwarts. The game boasts an "encounter system" that will have an impact on your various quests, so maybe think before you act, yeah?
Sadly, no release date yet, but we figure spring is just around the corner and this recent trailer makes the game look like it's nearly ready to roll. Get your wands ready.
Your Daily Blend of Entertainment News
Staff Writer for CinemaBlend.