Gamefly Is Shutting Down Its Streaming Service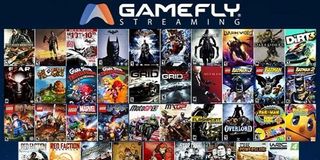 While some believe streaming is the future of gaming, that future will not include Gamefly. It was announced today that, at the end of the month, Gamefly Streaming will be shutting down. If you're a current customer, that leaves you about 30 days to cram in as many games as humanly possible before the plug gets pulled on the entire service.
This news comes to us from Variety, which apparently learned about the impending closure of Gamefly Streaming through messages being sent to customers, as well as information offered through the company's support line. In short, Gamefly Streaming is being discontinued as of Aug. 31, at which time subscribers will no longer be charged for the service. It looks like the Gamefly Streaming app is also being pulled from various devices, presumably in an effort to prevent anyone from discovering the service and signing up just in time to have it discontinued.
To be clear, Gamefly Streaming should not be confused with the basic Gamefly service, which will continue to send subscribers games and movies through the mail. As far as we've heard, that particular branch of the company is still doing just fine. It sounds like their own streaming service simply never got off of the ground.
The Gamefly Streaming service was a solid idea, in theory. With it, you could stream all sorts of games to your smart TV or other streaming devices, like the Amazon FireTV. You could use a controller that pairs with those devices, or even your smartphone for some games. After a free trial of the service, you could subscribe to Gamefly Streaming and enjoy unlimited play for about 10 bucks a month. This service included games like The Witcher III, LEGO Harry Potter, Grid 2 and Hitman. Included were cloud game saves and multiplayer options.
It wasn't the most robust lineup, but that's likely due to the fact that everyone from Sony and Microsoft to EA and Valve have their own streaming services available. In other words, different games are going to different services, which is making it hard for any of them to really take off. We're seeing something similar in streaming television and movies right now. We've got heavy hitters like Netflix and Hulu leading the pack, but everyone from Disney and DC to CBS and AMC are trying to cash in on their own properties.
Things were fine when there were only a couple of options, but now the pond is filling with smaller fish, each one wanting about $10 a month for their own properties. The fear is that this is only hindering all parties involved. If a pizza restaurant is doing good business in town and five other people decide that means they should open a pizza restaurant, too, the most likely outcome is that none of them will do good enough business to survive.
As for games, it seems more likely that the technology and interest for streaming gaming just isn't ready yet.
Staff Writer for CinemaBlend.
Your Daily Blend of Entertainment News
Thank you for signing up to CinemaBlend. You will receive a verification email shortly.
There was a problem. Please refresh the page and try again.