Capcom Announces Marvel vs. Capcom Origins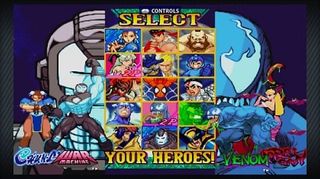 Fighting games are seeing renewed popularity these days, so it makes sense that Capcom would want to ride that train as far as it will run, offering up a chance to play some of the genre's early gems with the recently announced Marvel vs. Capcom Origins, headed to XBLA and the PlayStation Network this September.
With the digital release of Marvel vs. Capcom 2 and the console release of Marvel vs. Capcom 3 doing so well these past couple of years, Capcom has decided to up the ante with a double dose of fighting goodness, combining the original Marvel vs. Capcom: Clash of Super Heroes and Marvel Super Heroes into one nice, neat downloadable package known as Marvel vs. Capcom Origins.
Set to release this September for $14.99, both games are being given the next-gen treatment with GGPO-enhanced online play, eight-player online lobbies and a spectator mode. Both games are also being injected with HD graphical upgrades, as well as dynamic challenges and the ability to save and share your favorite match videos.
Marvel Super Heroes took the early 90's world by storm with one-on-one fighting featuring some of the most famous characters in comics. The first Marvel vs. Capcom cranked that dial up to 11, mixing Marvel heroes with Capcom legends in a two-on-two tag-team showdown that introduced assists and duo team attacks.
Genre vets will likely want to pick this one up for the chance to revisit their fighting roots while taking the battle online for the first time. For those new to the genre, consider this a history lesson in the evolution of fighters, complete with two games that have stood the test of time quite nicely.
Your Daily Blend of Entertainment News
Staff Writer for CinemaBlend.
Your Daily Blend of Entertainment News
Thank you for signing up to CinemaBlend. You will receive a verification email shortly.
There was a problem. Please refresh the page and try again.