Minecraft: Dungeons Is Coming To The PC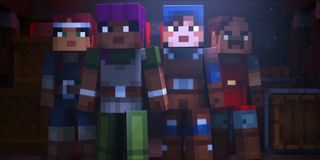 (Image credit: Microsoft)
After Microsoft spent $2.5 billion in 2014 to to purchase Mojang and the Minecraft brand, two things ran through everyone's mind. The first was a question of why Microsoft would spend that much money on a video game brand, and the second was curiosity about what Microsoft would do with the Minecraft brand. After years of re-releasing the game on various platforms and mobile devices, Microsoft introduced a brand new and reportedly different Minecraft experience called Minecraft: Dungeons.
Minecraft Dungeons will be released on PC in 2019. It was announced during the Minecon Earth 2018 event (via IGN), where it was also revealed that the game will be a four-player cooperative dungeon-crawler. In the game, players will handle all new weapons and items while facing new enemies, and bosses within the Minecraft universe.
The main theme of the game will center around a new enemy called the Arch-Illager, which will be the new big baddie in the world that players will face off against. As well, everything will take place within underground dungeons, almost like Terraria.
The game announcement featured a look at the world of Minecraft: Dungeons, with a focus on four characters from different classes descending into a dungeon ruled by some evil minions. Much like the other games in the series, you'll be able to utilize swords, shields, and magic. This includes a magic wand with lightning properties, a big 'ole hammer that would make Thor jealous, and even the ability to dual-wield blades.
Some of you might be wondering exactly what's up with the whole the Dungeons escapades and what exactly makes this any different from the other Minecraft games currently available on the market? Well, according to lead developer, Jens Bergensten, the idea behind this newest game was to focus on a specific element of the Minecraft universe, and to keep the focus mostly on the dungeon area and the questing and monsters that come along with it.
There are also some traditional procedurally generated elements underlying the overall design of Minecraft: Dungeons. This was one of the core elements that helped define the original Minecraft when it came out, having procedurally generated worlds that could be seeded so other players could join in on the building and crafting fun.
I do wonder if Minecraft: Dungeons will be a new way for Microsoft and Mojang to tap into different kinds of adventures for Minecraft, possibly taking the adventures into space, or alternate dimensions, or underwater. I imagine this is going to be Microsoft's way to test the waters for a more streamlined Minecraft experience, and if things work out we could see more sub-adventures themed around specific biomes with custom weapons, enemies, and quests. After all, Telltale also took a crack at the franchise with Story Mode, and it ended up getting picked up by Netflix.
Tons of possibilities exist when it comes to the Minecraft brand, and we'll get an idea of how well Minecraft: Dungeons works out when it launches on PC in 2019.
Your Daily Blend of Entertainment News
Staff Writer at CinemaBlend.