Terraria Android Version Released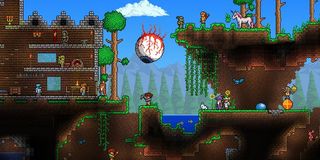 The indie sandbox game Terraria is making its Android debut today. Re-Logic's sleeper hit can now be purchased through the Google Play Store for $4.99.
In Terraria, players explore a randomized two-dimensional world. They can gather wood, stone and other supplies from the environment to construct buildings. Once players outfitted these buildings with furniture and other amenities, different types of NPC's will take up residence there and sell you items. Players can also craft over 200+ types of items including weapons, armor and potions.
You're not just building for the sake of building, though. Half of Terraria is adventuring. You journey through forests, underground tunnels and other environments and battle over 75 kinds of monsters. There are also five boss characters to face down, each providing rare rewards.
The Android version comes with a couple exclusive features, albeit small ones. Players can find an Android pet to accompany them on adventures. Google Play also offers both leaderboards and Achievements. The game also offers a free trial so you can mess with it a bit before forking over your five bucks.
I reviewed the iOS version a couple weeks back and came away impressed with its depth. You could sink a lot of time into this game if it takes hold of you. The virtual button controls are fine for building but don't quite hold up with intense activities like platforming or combat. The lack of multiplayer support is a shame, too, because co-op and PvP are a big part of the console and PC editions. On the bright side, the price of Terraria is half what you'd pay for the home versions of the game.
In order to run the game, you'll need Android 2.3 and up. If you're deciding between smartphone and tablet, I'd strongly suggest the latter. The game has a zoom-in targeting feature for harvesting and building that takes up a bit too much of the screen on phones. It's better to play on a device with a wider screen so you can see the full world around you in all of its pixelated glory.
In addition to iOS and Android, Terraria is also available on PS3, Xbox 360, and PC. Windows Phone and PS Vita versions are also forthcoming.
Image 1 of 3
Your Daily Blend of Entertainment News
Staff Writer at CinemaBlend.