Devil May Cry 5's Ultra Limited Edition Will Get You Dante's Coat, But It Will Cost You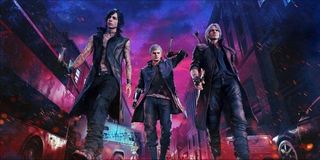 (Image credit: Capcom)
It seems like companies are constantly trying to one-up themselves when it comes to the limited collector's editions of various top-brand games. If it isn't a special DLC item included in the game, there's a statue, and if it's not a statue there are rare items like Dante's coat. Of course, that last one is a specific reference to an upcoming promotion for Devil May Cry 5.
Eurogamer is reporting that the limited edition will come with an $8,000 coat. It's a long red leather coat that drapes down to the wearer's shins. It's a full-sleeve coat with a few straps and aesthetic paddings designed in the same way that Dante wears the coat in the game.
But that's not all.
The limited edition with the $8,000 coat is just one of three special limited editions that Capcom has available for Devil May Cry 5. Another one features the coat worn by another character named 'V'. It's a sleeveless jacket that's also full length with various stitch designs on the back and sides. The 'V' coat will run you £4000, which is about $5,100.
The last coat in the list is the one that Nero wears in Devil May Cry 5, featuring half a missing sleeve on the lower right arm from the elbow down. This is due to Nero in the game having a missing arm, which is replaced by a robotic limb that he uses during combat. Nero's coat will run you a not-so-breezy £5,000, which translates into $6,500.
Basically, if you're a collector who really wants to get their hands on the rare clothing items from the upcoming game, you'll have to spend an arm and a leg to do so.
As pointed out by Eurogamer, this isn't the first time that Capcom has included some high-priced items in its packages when it comes to limited collector's editions. Resident Evil 6 had a special package where you could purchase a copy of the game that came with Leon Kennedy's iconic jacket that would cost you $1,000.
There aren't too many other publishers who opt to include that kind of gear into their games. The most that gamers can usually expect from a limited collector's edition is like a statue in the Tomb Raider reboot games, or a radio controlled car in the Call of Duty limited edition packages.
The one question most people will have is: who is going to pay up to $8,000 for a video game and a jacket?
For now these super limited edition units are only available in Japan, so if you wanted to get your hands on one you would have to import it from overseas. Obviously this means that you would have to pay even more money to have the novelty items shipped from Japan to your location, so you can tack on some international shipping fees to the $8,000 you would have to pay for the main jacket and the game.
Alternatively, you can just wait for the game to launch normally on March 8th, 2019 for the PS4, Xbox One and PC, and pay the $60 up front without worrying about all the other special hijinks attached to the limited editions.
Staff Writer at CinemaBlend.
Your Daily Blend of Entertainment News
Thank you for signing up to CinemaBlend. You will receive a verification email shortly.
There was a problem. Please refresh the page and try again.