Red Dead Redemption 2 Online Beta Starts Tomorrow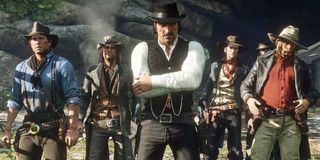 Rockstar Games promised that Red Dead Online would be available sometime in November and they're looking to pull off that feat just under the wire. The online portion of Red Dead Redemption II is going to roll out over the next several days and by Friday, Nov. 30, everyone gaming on the Xbox One and PlayStation 4 should be able to join in on the fun.
As of Tuesday, Nov. 27, anyone who has the Ultimate Edition of Red Dead Redemption II will be able to join the online beta starting at 8:30 a.m. EST. If you purchased the physical Ultimate Edition, you need to make sure to redeem the code that was included with your copy of the game.
No need to worry if you didn't fork over extra cash for the fancy version of the game, though, as your wait won't be much longer to join the online activities. On Wednesday, Nov. 28, anyone who logged on and played Red Dead II on launch day, Oct. 26, will be invited to join the online community. The press release does not list a start time for the Wednesday crowd, but it's probably a safe bet that it will also be at 8:30 a.m. EST.
If you played Red Dead II sometime between Oct. 26 and Oct. 29, you'll get to play online starting this Thursday, Nov. 29. Finally, as of Friday, the gates will be thrown open wide for anyone with a copy of the game.
Staggering the launch actually has less to do with offering perks to early adopters of the game and more to do with careful planning on Rockstar's part. They're calling these early goings a beta because things will likely need to evolve a bit before they consider it fully "launched." The first week of any online game can be crazy, so they're pacing things to make like easier on themselves and less frustrating for players.
Launching the online portion of Red Dead II across a handful of days allows Rockstar to, hopefully, mitigate any major issues and help make sure the servers can handle the load. Having everyone pile in at once would have been a pretty great way to bring things crashing to a halt. Server crashes might still happen, obviously, but at least having a rolling launch will help lesson those odds.
In the announcement, Rockstar invites everyone to report any bugs or other issues through the regular channels as they work to bring the online game up to full speed. They've had an extremely successful run with Grand Theft Auto V's online mode over the past five years, though, so expect whatever activities are available here in the early goings to increase with future updates.
When you turn on Red Dead II, you should notice an "Online" button in the top right of the screen once you are allowed to join the mode. From there, you'll be invited to create your own character, then it's off to the races. It sounds like the entire map will be included in the online mode, though altered to support multiplayer activities. The announcement states that fans can expect a bunch of the experiences they had in the original game's online mode and a lot more. Players can go solo or join a posse of eight total players. You can go fishing and hunting as a posse, attack the hideouts of other gangs, hunt for treasure, go on missions, check out spontaneous skirmishes and even tackle open world challenges.
Staff Writer for CinemaBlend.
Your Daily Blend of Entertainment News
Thank you for signing up to CinemaBlend. You will receive a verification email shortly.
There was a problem. Please refresh the page and try again.