Grand Theft Auto 5 Just Broke A Major Sales Record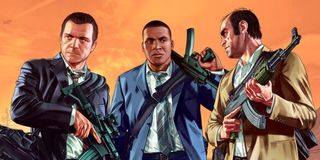 (Image credit: Rockstar Games)
Take-Two Interactive has proudly announced that Grand Theft Auto V has managed to break a major sales record recently, toppling all other internal sales records that Rockstar Games' irreverent, action-packed, open-world crime series has managed to accomplish in the past by becoming the best selling game of all time in the U.S.
Yep, that's right. Eurogamer is reporting that Grand Theft Auto V has managed to become the best-selling video game of all time in the United States. There's still a ways to go for it to capture Europe and Eurasia, but it's not like Take-Two isn't planning on reaching that sales milestone at some point.
In fact, the article goes on to explain how Take-Two wants to put more effort into getting gamers to spend more on games after they've already purchased it. A large chunk of the sales of Grand Theft Auto V was due to the GTA Online portion, where millions of gamers purchase Shark Cards in order to give their in-game characters a monetary advantage on other players.
GTA V originally launched back in 2013 for the Xbox 360 and PS3, and sold millions on the aging seventh gen consoles. A year later Rockstar launched the open-world title on Sony and Microsoft's Xbox One and PS4, managing to sell millions more copies thanks to increased performance, a first-person mode, and lots of new content for the GTA Online component, including multi-layered heists where up to four players could carry out a multi-stage, elaborate heists.
Even though Rockstar and parent company Take-Two made billions from the Xbox 360, PS3, Xbox One and PS4 release of the action title, the companies weren't done yet. GTA V released in the spring of 2015 on PC for the very first time, featuring support for UHD assets and 4K resolutions. The game managed to sell more than 8.7 million copies on Steam alone, according to Steam Spy.
The game is still a ways off from capturing the crown of being the best-selling game of all time, however. It still has to overcome Mojang's Minecraft, which is available on just about every device that can render 3D voxels, and it's still even further off from toppling Tetris, which is on just about every device that can render pixels.
Of course, Rockstar isn't done supporting GTA Online, so more content could continue to bolster sales and the title could eventually catch up to and possibly even surpass Minecraft.
Take-Two plans to carry over that momentum built up from Rockstar's open-world action fest into other titles, including the upcoming release of Red Dead Redemption 2, which is due for release in 2018 for the Xbox One and PS4. The thing to keep in mind, however, is that Rockstar is definitely cutting its sales potential short if PC isn't on the docket, but, then again, it might release on PC a year after launching on console, much like what happened with GTA V.
In addition to Red Dead Redemption 2, Take-Two also has another AAA title releasing under the 2K Games brand in 2018.
The company wants to focus on recurring player monetization, whether it be through purchasing virtual currency, in-app purchases, or otherwise. It worked out well enough for the company with the record-breaking GTA V, so don't be surprised to see a similar model pop up in Red Dead Redemption 2.
Your Daily Blend of Entertainment News
Staff Writer at CinemaBlend.