Another Day, Another Fortnite Dancing Lawsuit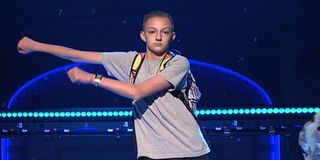 Hot on the heels of 2 Milly and Alfonso Ribeiro, yet another person made famous via dance has filed a lawsuit against Fortnite parent company Epic Games for use of their sweet moves without permission. This most recent cry of "foul" is coming from Russell Horning, better known as "Backpack Kid," who earned internet fame for his dance known as "flossing."
Arguably one of the most popular dances in recent history, flossing, originated in an Instagram video posted by Russell Horning. The kid became an overnight hit because of the dance, being called on to perform at various events and even appearing on Saturday Night Live. It was that SNL appearance during a Katy Perry performance that catapulted Horning, or at least his arm-swinging dance, into the spotlight.
The dance became so popular, in fact, that Epic included a version of it as an emote in Fortnite, dubbing it "The Floss." Given how insanely popular Fortnite has become this past year, it's likely even more people became aware of the dance because of its appearance in the battle royale shooter.
The issue, though, is that Epic did not ask permission to use the dance in Fortnite and, to make matters more confusing, it's not actually clear that they had to in the first place. It appears that will be for a judge to decide, or perhaps various lawyers outside of court. That's because Horning has become the third person to file a lawsuit against Epic for allegedly stealing his dance, joining the likes of 2 Milly and his "Milly Rock," as well as Alfonso Ribeiro's "Carlton Dance." All three are being represented by the same law firm and none actually own a copyright to their own dance.
That last bit is yet another wrinkle complicating this whole business. Whether or not it would have been common courtesy for Epic to reach out to these individuals before including a dance they are credited for creating in Fortnite, the legality of the matter is another issue. Dances are notoriously difficult to copyright and, since neither of these three individuals currently own a copyright on their dance, the question is whether or not Epic is actually at fault. And just to make things more interesting, a video of Ribeiro stating he "stole" his dance from other people is making the rounds, which might make earning a copyright for his dance even more difficult.
As Polygon is reporting, Horning actually chimed in on the matter of his dance being in the game earlier this year while attending an official Pro-Am for the event hosted during E3. TMZ asked him if he thought he should receive compensation for the dance appearing in the game, to which he said he was "just glad it's in the game."
Based on his lawsuit, Horning's stance appears to have changed.
Your Daily Blend of Entertainment News
Staff Writer for CinemaBlend.