Spider-Man For PS4 Is Getting Some 'Fantastic' New Content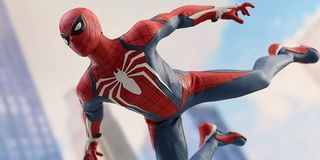 While Marvel's Spider-Man's trio of DLC chapters may have wrapped up last month, it looks like Insomniac Games is still working on the title and even promising something "fantastic" is heading our way.
The above tweet comes from Marvel Games, who has been putting a heavy focus on the Fantastic Four this week. Heck, they've even changed their logo so that the "A" in "Games" is currently a "4." But what really caught our attention was the recent mention of Marvel's Spider-Man, Insomniac Games' rad-as-hell PlayStation 4 exclusive.
This all seems like a not-too-subtle tease that some Fantastic Four-inspired content is heading to the game but what that might be, exactly, is still a mystery. Some folks are keeping their expectations at a reasonable level, anticipating a new suit will be thrown into the mix. Others, though, are dreaming big.
We'll start on the smaller end of the spectrum with the potential for a new costume for Spider-Man to wear. If you've played Marvel's Spider-Man, then you know that many entries from the hero's impressive wardrobe are present and accounted for. The game tosses costumes at the player on a regular basis, including outfits from the comics, animated series and even movies. Some of the more recent costumes include one pulled from Into the Spider-Verse, as well as a holiday gift that boasted the suit from the Sam Raimi films.
If we're talking straight Fantastic Four gear for Spidey, there are basically three options for Insomniac to pick from. First up is the makeshift costume Peter Parker wore when he discovered the symbiote that would become Venom was dangerous to keep wearing. He relied on his pals at Baxter Tower for some assistance, and ended up leaving in a standard Fantastic Four costume with a paper bag pulled over his head. If I remember correctly, The Human Torch added a "Kick Me" sign to the back of the costume for good measure. There's also a costume for The Fantastic Spider-Man that boasts the usual blue on black design of the group with some extra Spidey flair and a black hood. Finally, there's the more recent Future Foundation costume, which is a super-cool white suit with black trim.
Any of those suits would be great, but some folks are speculating that Insomniac is going quite a bit bigger, perhaps offering multiple costumes paired with some new story content focusing on the Fantastic Four. Perhaps Spidey is going to need to visit Baxter Tower to help out his super-pals?
But again, that's just speculation. We know "something" related to the Fantastic Four is heading to Spider-Man, we just don't know what it is yet. We'd be game for some new DLC because, if nothing else, it would give us yet another reason to dive back into that world.
Staff Writer for CinemaBlend.
Your Daily Blend of Entertainment News
Thank you for signing up to CinemaBlend. You will receive a verification email shortly.
There was a problem. Please refresh the page and try again.