PS4 Spider-Man Is Getting His Own Comic Series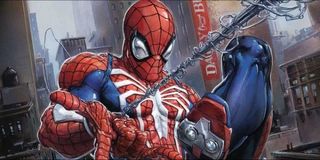 The popularity of Marvel's Spider-Man for the PS4 has continued to skyrocket Spider-Man to new heights, even to the point where Marvel decided that it was time that Insomniac Games' version of the friendly neighborhood superhero deserved his very own comic run.
The announcement came from Marvel executive producer Bill Rosemann, who announced via his Twitter account that Marvel's Spider-Man would be making its official debut under the Marvel Comics label starting in March 2019.
The book will be written by Dennis Hopeless, the writer of the WWE comic books, as well as Cloak and Dagger and tons of X-Men comic book lines for Marvel. Italian artist Michele Bandini, who worked on X-Men Gold, Thor, and The Mighty Captain Marvel, will be handling the art within the comic.
The cover will be handled by Clayton Crain, along with variants made by Marvel's art director Tim Tsang, David Nakayama, and Gerardo Sandoval, the latter of whom has done some rather striking artwork for comic books like ShatterStar and Venom.
Basically, an all-star cast will be working on this comic book based on Insomniac Games' AAA blockbuster for the PlayStation 4. The game has sold millions of copies already and managed to launch out of the gate rocking some rip-rolling numbers that managed to break records for Sony's publishing line.
The game wasn't just a retread of the existing comics or a lame attempt at cashing in on Spider-Man Homecoming, which was annexed into the Marvel Cinematic Universe; Insomniac went out of its way to create a completely different kind of universe for the web-slinger that captured a level of heart, nuance and complexity that hasn't been featured in a Spider-Man game like this before.
The game followed Peter Parker, his relationship with Mary Jane Watson, the development of certain characters into villains and other characters into super-villains. It wasn't just another standard revenge tale or a bad guy being a bad guy just because.
The story was only one part of it, though. The actual gameplay was solid from start to finish, and the ability to unlock new abilities and suits for Spider-Man helped give the game a lot of depth and replayability. And, that's not to mention that Spidey managed to get his hands on a brand new costume, which is being featured front and center on the cover art shared by Rosemann.
According to Game Informer, the storyline for the comic book will cover the core story featured in the game, along with introducing readers to the various arcs that took (and are taking) place across the DLC expansions that have been released (and will be released) for the game. You'll be able to find out exactly how the story will unfold when the comic based on Marvel's Spider Man launches in March next year.
Staff Writer at CinemaBlend.
Your Daily Blend of Entertainment News
Thank you for signing up to CinemaBlend. You will receive a verification email shortly.
There was a problem. Please refresh the page and try again.