Terry Crews As Jax In Mortal Kombat 11? Actor Is All In After Seeing Fan Art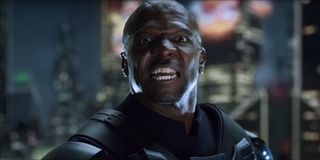 Hollywood actor Terry Crews is everywhere. He's been on television, in movies, and he'll be starring in the upcoming release of Crackdown 3 for the Xbox One and Windows 10 on PC. However, he's not done with gaming after that -- he also wants to take a shot at playing Jax in Mortal Kombat 11.
Over on Terry Crews' official Twitter account, the actor tweeted out his admiration for the art that was put together by Bosslogic, who is known for drawing fan art featuring famous actors as other fictional characters. His latest run of images consists mostly of Mortal Kombat characters played by famous actors. For instance, he has Keanu Reeves from John Wick playing the blind warrior Kenshi (which looks really badass, by the way), and Wonder Woman's Gal Gadot as Kitana (which looks super cool), and Guardians of the Galaxy's Chris Pratt as Johnny Cage.
It was Bosslogic's turn of former football player Terry Crews into the metal-armed special forces agent Jax which managed to get the attention of Ed Boon, who said that Bosslogic was "killing it." The creative director for the upcoming ultra-violent fighting game then tagged Terry Crews into the tweet and Crews was quick to respond with a bunch of fire emojis while saying "I would love to do this!!!" hinting at the idea of wanting to step into the role of Jax for Mortal Kombat 11.
Now keep in mind that stepping into the role of a character is no quick feat. It's not quite like movies or television where at the twelfth hour you can replace someone else and hop into the right costume and memorize the right lines to don the role. For video games, oftentimes there's the costume fitting, the makeup process, the scanning process you have to go through for the model, and then the voiceover work that has to be done. All of that has to take place before the character is put into the developmental pipeline.
So on average it can take anywhere between a few weeks to a few months to finalize a character for actual use within the game, and in the case of Mortal Kombat 11, the game is due out on April 23rd, 2019 later this year during the spring. That would mean that if NetherRealm Studios have not already scanned, cleaned-up, voiced, and mo-capped Jax for the game, they would have to get Crews into the office and start on that like right away, right now if they wanted him done in time for release.
However, if the character already has his moves mapped out but the model, the skin, and the voiceover work isn't done quite yet, they would need to hurry if they actually had plans on using Terry Crews for the game. It's not impossible but it seems a little unlikely at this point.
Then again, it all depends on the pipeline. Photogrammetry tools have really picked up pace in recent years with better floating point capture paradigms that more accurately capture the object, so that's less time in clean-up and faster turnarounds for getting characters and objects up out for the game, which is how Capcom is able to get higher quality assets implemented into games like Resident Evil 7 or the remake of Resident Evil 2 in much quicker times than before.
This isn't the first time that Crews has stepped up to offer his services for a video game. He also tried to use the media zeitgeist to land a role in Blizzard Entertainment's Overwatch as Doomfist. He came close but he didn't quite make it. He did, however, manage to use that wave of momentum to end up in Microsoft's upcoming Crackdown 3.
But then again, it doesn't even mean that in this particular case Terry Crews would have to be recruited for playing the character within the game. Heck, he could be given a role in a live-action counterpart. You might remember a few years ago that there was a short lived series based on Mortal Kombat X, so if NetherRealm and Warner Bros., try something like that, it could work out after all.
Your Daily Blend of Entertainment News
Staff Writer at CinemaBlend.