5 Strangest Celebrity Dating Sims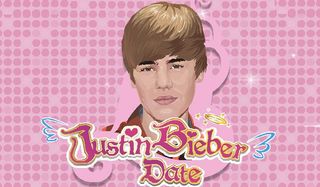 Over the weekend, I wrote an article about a game that gives players the chance to go on a virtual date with Nicolas Cage. At the time, I assumed it was just a product of the Internet's obsession with Cage, which is partially true. But as I investigated, I uncovered a strange, often-creepy, subgenre of video games: unlicensed celebrity dating simulators.
These games mimic the beginnings of a romantic relationship with a celebrity, which is probably better than stalking. But there's still something creepy about the kind of person whose obsession is strong enough to fuel the development of an entire video game.
Like any good journalist, I feel a responsibility to the public. So, I've selected five of the weirdest celebrity dating simulators on the Internet, and I'm sharing them with you.
You're welcome.
Justin Bieber Date
Justin Bieber currently has 60 million salivating followers on Twitter, so this dating simulator almost feels redundant.
The story kicks off with a chance meeting on an airplane. After impressing him with your encyclopedic knowledge of his private life, Bieber invites you to meet him in a park. There's a short discussion about how awesome dogs are after which you're invited to hang out backstage before a concert.
The more questions that answer correctly, the bigger Bieber's smile gets.
Admittedly, I never made it past the third stage. Bieber started asking some very specific questions about his life, and I wasn't willing to do the kind of research required to improve my romantic chances. So, we're just friends.
The artistry on this simulator is impressive. Someone put a lot of time into perfectly crafting Bieber's face, paying special attention to the lips and eyes. I suspect it was a labor of love.
Kiss Paris Hilton
I've played hundreds of video games in my life, and some of them were throw-your-controller difficult. I've even played untranslated versions of Japanese RPGS, but Kiss Paris Hilton might be the most confusing game of my career.
Kiss Paris Hilton is different than the rest of the titles on this list. You don't actually get to kiss her, because she's constantly kissing other famous people. You're just the lookout, making sure that Paris and her beau don't get busted.
First she's kissing Jared Leto on a on a magical, floating roller coaster that was constructed on an African savanna. Then it's Sum 41's Deryck Whibley on a beach. Then she smooches Paris Latsis in the middle of a busy street. Every time Hilton is caught locking lips, people throw soda cans and beach balls at her head, just like in real life.
But here's my question: why would a person who's famous for an explicit sex tape be so nervous about kissing in public?
Steve Buscemi Date/Experience
Yes this is a real game, but installing it isn't easy. If you want to date Steve Buscemi, you'll need to purchase a game-development program called RPG Maker. This'll drain about 70 bucks from your wallet, which is too much to spend on a game that's hosted on Tumblr.
After jumping through all of these hoops, I realized that getting a real date with Steve Buscemi might be easier. And he'd probably pay for dinner, so it'd be cheaper too.
Though, the real-life Buscemi wouldn't use as many typos, and you might not get to meet his stuffed animal collection.
One Direction Dating Game!
If you're looking for a virtual dating experience with One Direction, prepare to be overwhelmed with choices. After spending only a few minutes searching, I managed to dig up a half-dozen One Direction dating sims. And I stopped looking, because my browser's pop-up blocker was being overwhelmed.
I did manage to find a very simple, text-based sim that allowed me to sit down and chat with each of the band members individually. However, I learned quickly that the guys from One Direction get very frustrated if you don't answer their narcissistic questions correctly. So, if Harry Styles asks you to name his favorite animal, and you incorrectly respond with one of the 60,000 other animal species on earth, he gets angry.
When your date gets upset over trivial things within the first few minutes of the conversation, some people call that a "warning sign."
KimYe - Dating Sim for Kim Kardashian and Kanye West
Of the celebrity dating simulators on this list, KimYe is the only one that actually made it to the App Store and Android Marketplace. Though, it's been taken down for what I can only assume are numerous copyright violations.
Players take on the role of Kanye West and attempt to win Kim Kardashian's heart while managing a busy music career. This is accomplished through texting, shopping, and fighting off an "onslaught of other suitors vying for her attention."
Kanye only has 72 days to win her over. After that, he goes back to focusing entirely on himself.
Your Daily Blend of Entertainment News