Despite F-Bomb, Harry Styles Wouldn't Take Back Dating Taylor Swift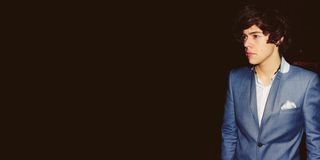 If you are part of the population that missed the VMAs—which should include most people over the age of 14—you may not have seen Taylor Swift mutter an expletive under her breath about ex-boyfriend Harry Styles, who also attended the ceremony with his One Direction bandmates. Regardless of the very public moment, Styles says he would still date Swift, and besides, he has his bros to back him.
Swift showed up to the VMAs looking far more elegant than nearly anyone else attending the event. She kept her composure for the most part on the red carpet, ignoring a moment when Katy Perry was mentioned by the interviewer (we're guessing she's not a fan since Perry is on-again, off-again with Swift's ex). However, during the ceremony itself, cameras caught her seeming to mouth "shut the fuck up" when Styles and the rest of his band hit the stage. She later made some weird comments that were seemingly about her former relationship with Styles after she won a moon man statue. Recently, at the premiere of 1D's movie This is Us, bandmate Liam Payne spoke out about the particular lameness of Swift's behavior over the weekend, telling Perez Hilton she should have just taken her win as a positive.
We've known for a while that Swift is a habitual breakup song writer, and this spring she basically admitted that "I Knew You Were Trouble" was about Harry Styles. However, Styles recently told US Weekly he wouldn't change a thing, even if he did get an F-bomb thrown at him during the awards ceremony.
As Styles points out, when individuals opt to date one another, it's because they are typically mutually attracted to one another, not because they want their relationship to play out on the covers of magazines.
At least to the media, Styles seems to be keeping a pretty cool head about the whole thing, while Swift, on the other hand, still seems a little upset. Really, though, she doesn't have much to complain about. Yeah, her relationship with Styles may not have ended on the best of terms, but she did write "I Knew You Were Trouble" afterward, a song that debuted at #3 on the Hot 100 singles chart. This is after the track sold 416,000 copies in its first week. In a sense, Swift has her breakup to thank for her success, adding a little icing to an otherwise barren cake.
Your Daily Blend of Entertainment News
Reality TV fan with a pinch of Disney fairy dust thrown in. Theme park junkie. If you've created a rom-com I've probably watched it.
Your Daily Blend of Entertainment News
Thank you for signing up to CinemaBlend. You will receive a verification email shortly.
There was a problem. Please refresh the page and try again.