7 Most Bizarre Grand Theft Auto Lawsuits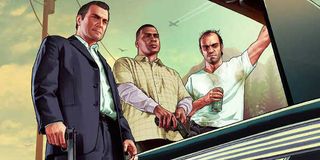 The PC edition of Grand Theft Auto 5 hit shelves last week, which means that Rockstar's biggest franchise is back at the top of everyone's to-do list. For many gamers, this is a good thing. It's a chance to casually rack up a few felonies in the fictional city of Los Santos. But not everyone feels that way. In fact, for some people, Grand Theft Auto is a never-ending stream of controversial content.
But you already knew that, didn't you?
Phrases like "copyright infringement," "real-world violence," and "corruption of minors" have become a predictable part of the media's vernacular whenever a new Grand Theft Auto title hits the market. Most of these controversies end up fizzling out, but some develop into full-fledged lawsuits that have more in common with situation comedies than judicial disputes.
For the last week, I've been scouring the Internet looking for the most bizarre lawsuits that Grand Theft Auto has inspired, and I've compiled them into a convenient list. I should warn you, though; some of these are guaranteed to make any rational human angry. So, proceed with caution.
Cypress Hill's Shagg Vs.Take-Two
When Rockstar North started developing Grand Theft Auto: San Andreas, Cypress Hill backup singer Michael "Shagg" Washington was reportedly invited to the studio for an interview. According to Shagg, Rockstar asked for some specific details about his life and said that he would be contacted if they decided to use any of it in San Andreas. But Rockstar never called.
However, when GTA:SA hit the market, Shagg noticed some striking similarities between himself and the main character, Carl "CJ" Johnson. In the lawsuit, Shagg specifically cites CJ's appearance and the fact that several characters rode bicycles, something that was common among the teenagers in his gang.
However, the court disagreed with Shagg's complaint and dismissed the suit in 2012. Here's a snippet from the judge's ruling:
Gamers Sue Rockstar for Delayed Content
I cringe whenever gamers threaten legal action because they're not happy with a game, but this case is especially embarrassing. In 2013, Bruce McMahon and Christopher Bengtson filed a lawsuit against GTA's publisher, Take-Two Interactive, because GTA Online wouldn't become available until two weeks after the game launched.
Two Weeks.
Now, I understand being frustrated when a game doesn't live up to expectations, but it takes a particularly self-important person to initiate legal proceedings over a 14-day wait. And the fact that Rockstar announced the delay prior to launch, and GTA 5's packaging specifically mentioned that online play "may not be available to all users" didn't help the case.
Unfortunately for McMahon and Bengtson, the courts don't usually reward impatience. A few months after it was filed, the U.S. District Court in California granted Take-Two's motion to dismiss.
Take-Two Vs. The City of Chicago
Most of the items on this list involve annoyed parties taking legal action against Take-Two Interactive and Rockstar Games, but this one is different. Back in 2008, when Grand Theft Auto IV was hot off the press, the Chicago Transit Authority decided to breach a $300,000 advertising agreement by pulling GTA 4's ads from its busses and bus stops.
The ads were taken down following a Fox News report that criticized the CTA's decision to distribute Grand Theft Auto's campaign after a series of violent crimes swept Chicago.
Take-Two obviously wasn't enthusiastic about how the situation was handled and quickly filed a $300,000 lawsuit. After a six-week legal battle, Take-Two and Chicago set aside their differences and the ads are placed back into rotation.
Lindsay Lohan Vs. Take-Two Interactive
Shortly after Grand Theft Auto V hit the market, Lindsay Lohan claimed that one of the game's characters was based on her. But instead of laughing it off as a good-natured caricature, the melodramatic actress hired a team of lawyers to file a 67-page document, detailing her complaint.
The lawsuit alleges that Lacey Jonas, a minor character from GTA 5, was modeled after Lohan's likeness and poked fun at her attention-seeking behavior. In the game, Jonas is a former child star who considers herself to be the "voice of a generation." Also, her personal life is a bit of a mess.
Now, I'm not an expert on public relations, but if I were Lindsay Lohan, I would have avoided acknowledging any similarities between Lacey Jonas and myself. But Lohan decided to file a frivolous lawsuit to prove she's not a drama queen.
Here's my favorite line from the legal documents:
Apparently, Lohan believes that a red bikini and pair of fingers constitutes a legal defense.
The suit is still ongoing, but I think we can probably assume that it'll end up at the bottom of the judge's trash bin.
Mob Wife/Reality Star Vs. Grand Theft Auto
Last year, former Mob Wives star Karen Gravano filed a $40 million lawsuit against Take-Two and Rockstar, claiming that one of Grand Theft Auto V's characters stole her life story.
The character in question is Antonia Bottino, the daughter of a former Gambetti-family mob boss named Sonny Bottino. In real life, Gravano's father was Salvatore "Sammy the Bull" Gravano, a former underboss in the Gambino crime family who eventually started working with the FBI to bring down John Gotti.
Unlike the Lacey Jonas storyline, which is a generic narrative about a self-important starlet, Antonia Bottino's story has a number of significant similarities. However, Take-Two defended the allegations by pointing out that life stories aren't protected under the law.
It's not like Gravano's storyline was a secret, either. Even if Rockstar openly admitted to basing Bottino's character on Karen Gravano, the narrative would be comparable to one of those "ripped from the headlines" story arcs on Law and Order.
The lawsuit is still pending, but if a judge decides that Gravano's case has merit, Dick Wolf's career is in trouble.
Jack Thompson Hates Video Games (including GTA)
If you're a gamer who's never heard of Jack Thompson, I'm about to ruin your day. Sorry.
Thompson is a lawyer who's been trying to squash the video game industry for nearly two decades. He's taken on titles like Doom, Quake, Wolfenstein, Bully, Manhunt, and Mortal Kombat. But Grand Theft Auto is his favorite target.
Whenever a real-life crime is committed by someone who played Grand Theft Auto, Thompson hitches his wagon to the victim's family. His name comes up so often that it's difficult to nail down the number of times that he's tried to sue Take-Two. And whenever a family agrees to accept his help, he turns the case into a soapbox, leaving the victims to fend for themselves.
In 2008, the Supreme Court of Florida permanently disbarred Thompson, citing "cumulative misconduct, a repeated pattern of behavior relentlessly forced upon numerous unconnected individuals, a total lack of remorse or even slight acknowledgment of inappropriate conduct, and continued behavior consistent with the previous public reprimand."
However, since he never listens, Thompson announced that he would resume practicing law in 2009. His letter even dared Florida "to get a court order to stop him."
Also, six years ago, Thompson picked a fight with one of our editors. He's a real bummer.
Hot Coffee Costs Take-Two Interactive $20.1 Million
Hot Coffee is probably the most infamous piece of Grand Theft Auto's controversial history. When San Andreas was released in 2004, it was loaded with a sexually explicit mini game that had been deactivated by Rockstar's development team. The game gave players the ability to participate in a poorly animated sex scene after a successful date with one of Carl "CJ" Johnson's six girlfriends.
She invited him in for "coffee."
When the PC version was released, modders discovered the erotic scene and created a mod that allowed players to access the content. Rockstar responded by playing dumb and accusing the hackers of adding the sequence to San Andreas's storyline. But when the same scene was discovered on the PS2 and Xbox 360 editions, the developer was forced to take responsibility.
The resulting class-action lawsuit ended in a $20 million settlement, and GTA:SA's rating was increased from Mature(M) to Adults Only 18+ (AO). Rockstar eventually created a version of the game that didn't contain Hot Coffee, and the Mature rating was reinstated.
So, just to recap: you have to be over 18 to view a pixilated sex scene, but 17 is old enough to kill a digital police officer.
Your Daily Blend of Entertainment News
Your Daily Blend of Entertainment News
Thank you for signing up to CinemaBlend. You will receive a verification email shortly.
There was a problem. Please refresh the page and try again.