Action-Oriented Resident Evil Can Sell Like Call Of Duty, Says Capcom Producer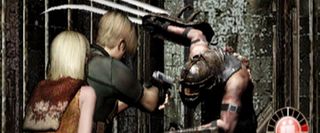 The reason Resident Evil is moving farther and farther away from its horror roots is because Capcom feels like the horror-survival genre is a niche genre. Capcom has been monitoring the sales of Call of Duty and they feel like Resident Evil can achieve the same numbers if it follows in Call of Duty's footsteps.
In an interview with GamaSutra [via Side Mission], Resident Evil: Revelations producer, Masachika Kawata , mentioned that gamers are craving more action than horror-suspense...
Furthermore, he believes that the niche market is too small to garner maximum sales revenue. It really has nothing to do with an original, immersive or true-to-form gameplay experience. Kawata went on to say that...
Resident Evil 4's gameplay was a great mix of action and horror. The atmosphere and set-pieces were very engaging and the enemies were threatening and definitely horror-inducing (Garrador, anyone?). However Resident Evil 4 didn't manage to sell enough SKUs to garner more than $1 billion in sales revenue in under 17 days like Call of Duty. According to Shack News Resident Evil 5 managed a very respectable 5.4 million SKUs sold, but it still pales in comparison to Call of Duty: Modern Warfare 3. And in today's video game industry climate, sales numbers speak louder than creativity.
Given that Kawata isn't working on Resident Evil 6 it's possible that the other Capcom team could forego the easy-route and actually focus on bringing the game back to its roots. However, it's also possible that the higher-ups are using the "horror roots" maxim as a marketing ploy to build interest in the game, all the while packaging it as a third-person Call of Duty with a few extra zombies layered on top. We won't know until we get to see (or play) more of Resident Evil 6.
But what do you guys think: will the next Resident Evil go back to roots or will Capcom go full-darkside and aim to cash-in on the Call of Duty money-train?
Your Daily Blend of Entertainment News
Staff Writer at CinemaBlend.