Assassin's Creed Syndicate Season Pass And Collector's Edition Revealed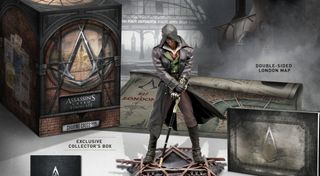 It hasn't even been a week yet and Ubisoft has already thrown out details on the season pass and collector's edition for Assassin's Creed Syndicate, the most recently announced open-world game in the long running series.
Over on the Assassin's Creed website the pre-order details are laid out for the general public. There's a standard edition that's available to pre-order that includes a DLC mission called "Darwin and Dickens Conspiracy", and there's a special Gold edition that includes the "Darwin and Dickens Conspiracy" along with the complete season pass.
The newest game in the long running series is scheduled to release on October 23rd for the PS4, PC and Xbox One this fall. So what is the "Darwin and Dickens Conspiracy"? Well, it involves none other than the famed author Charles Dickens and legendary scientists Charles Darwin. As mentioned on the main website...
Given that the game takes place in London during the Industrial Revolution, gamers will encounter very interesting characters and individuals from within and around that time period. It's not surprising that Darwin and Dickens would be among them.
But a DLC mission isn't the only thing that Ubisoft is offering on the pre-order front. There's also a real-life replica pre-order hidden blade bonus for Jacob Frye, one of the main characters of the game. There's also a cane sword life-size replica as well that clocks in at 36 inches, featuring an intricately hewn plastic cane sword.
The real life replicas are available from Uplay, GameStop and Amazon.
The special collector's edition comes with a lot of goods. There's a a special Assassin's Creed Syndicate London-street themed box. In it comes the official soundtrack via digital MP3, a Jacob crossroad figurine that stands 9 inches tall, an official artbook, and a double-sided map of the recreation of London in the game. Oh yeah, and it comes with the Darwin and Dickens Conspiracy mission along with the season pass.
The big box collector's edition for the game is available only exclusively through Uplay. If you're not fond of Uplay, too bad.
It seems a little odd that Ubisoft would be focusing so much on the collector's edition of the game, some DLC and the season pass so soon after the game was announced. I mean, most people want to know that this won't be another Assassin's Creed Unity situation. Focusing on all these trinkets to get gamers to depart with their money so far away from the game's official release is troubling. More than anything Ubisoft should be making a bid to the gaming community that this isn't just an annual cash-in or that they'll ensure that people who are first-adopters and put $60 down won't end up with a day-one dud with massive frame-rate and performance issues like Assassin's Creed Unity. You know, putting consumers first and all of that.
Nevertheless, if all you care about are the pre-order goods for Assassin's Creed Syndicate you can learn more about it by paying a visit to the official website.
Staff Writer at CinemaBlend.
Your Daily Blend of Entertainment News
Thank you for signing up to CinemaBlend. You will receive a verification email shortly.
There was a problem. Please refresh the page and try again.