Asus GL551JM System Performance Analysis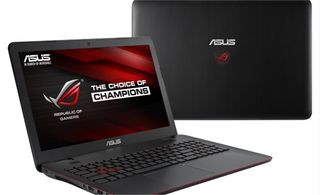 [Disclosure: A review unit was loaned to Gaming Blend for the purpose of this analysis]
The productivity and general system performance capabilities of the new Republic of Gamers GL551JM from Asus are just as important as the gaming benchmark capabilities and GPU performance.
This basic system performance analysis overview will break down how well the laptop works beyond simply plugging it in, loading up some games and having a good time.
Before getting to the Metro 2033s and the DiRTs and Sleeping Dogs, it was first important to see how well the GL551JM performed in basic system tasks and operations, such as web surfing (which it does quite well), moving over large amounts of data (which it does quite quickly) and saving and uploading movies (which it does superbly).
So first up, the GL551J rocks the following specs:
Windows 8.1 (64-bit)
Intel Core i7-4710HQ Haswell
2.5ghz (turbo up to 3.5ghz) per core
16GB of DDR3L RAM
Nvidia GTX 860M 2GB GDDR5
1TB 7200 RPM
DVD RW/CD-RW
15.6" full HD monitor for 1920 x 1080 output
4.0 bluetooth
Integrated 802.11AGN
ROG AudioWizard audio card
56WHrs Li-ion battery (up to five hours operation)
Price: $1,099.00
First thing worth noting is that the laptop boots up exceptionally fast. In fact, even from a cold boot, the GL551JM boots faster than both the Xbox One and PS4 in a cold boot. Additionally, the laptop boots faster from a cold boot than the Xbox One's warm boot. Comparing the GL551's cold boot to the PS4's warm boot doesn't quite reap the same results, given that the PS4 can warm-boot at around 10 seconds compared to the GL551's 13.28 seconds cold boot. Nevertheless, boot up times are extremely fast, whether it's warm (from sleep mode) or cold (from being completely shutdown and unplugged from the wall).
I also decided to test the battery to see how well it holds its charge and if it can actually operate for over five hours. I found that the GL551 could run for up to five hours if you turn down the brightness on the monitor, you don't use the audio, and you don't play any games.
However, if you plan doing more than just text-typing or light web surfing, the average time of usage (when running on the battery) was between approximately two and three hours... depending on the load.
For instance, the battery held up for three whole hours while downloading software and running a low-tier game like Spec Ops: The Line. The battery went from 100% at 3:00pm down to 5% around 6:00pm. The first hour was spent downloading and copying over software, and at 4:00pm Spec Ops: The Line was started and ran until the battery warning came on. Additionally, when the battery was at 100% I set benchmarks for Metro 2033 to run 99 times on the max graphics from 9:24pm to 11:24pm, which is when the battery dropped to 5%. It took the battery approximately two-and-a-half hours to charge to full while it was turned on and idle.
But how well does the GL551 handle the downloading, moving, working and processing of basic productivity features? Well, it took approximately an hour to move over close to 50GB on two different occasions from a 7200RPM passport drive. The fast drive and RAM allows for large amounts of data to be moved, stopped and moved again with very little in the way of hiccups. I purposefully stopped one mass data move just to see how well it could stop and start data transfers, and it did so with consistent speeds.
If you had large games, movies or software moving frequently from backup drives or other computers, it can handle this kind of data management quite well. I even had multiple files downloading while moving over 14GB worth of data just to see how well it could multitask, and then moved over an additional 300MB at the exact same time just to see how much of a slowdown it would incur on the system, but it managed to move the smaller file first and then resume the larger load with nary a stop in performance.
In fact, according to the PCMark 8 benchmark stats, it scored a respectable 2943 for handling system productivity and operation tasks after running multiple tests. You can check out the score on this page here, with the results visible below. The scores under each category are the average results from running each segment multiple times.
The video chat segment also holds true for gaming, too. However, I'll discuss that in the next article detailing the benchmarks, performance ratings, CPU and GPU thresholds and how well the laptop maintains its performance integrity when running things like FRAPS and multi-monitors.
Nevertheless, it was able to load up a 6.84GB video file into Microsoft Movie Maker within a matter of minutes and managed to format and save that file into a 1920 x 1080 resolution video within the same time frame. This means for those of you who like video editing, modifying files while on the go, or dealing with live-streaming or YouTube content creation, the GL551 appears to be suitable for carrying out those tasks in a timely manner. I was impressed.
Take note that this is only an analysis with what time I've put into measuring and gauging the capabilities of the hardware, and this does not speak for the longevity of the ROG Asus GL551J. There's no telling how much wear and tear it would be able to withstand before showing signs of performance degradation.
Stay tuned for the game performance analysis and how well the GL551 doubles down as a replacement for home console gaming or working as a makeshift Steam Machine. For more information about the Republic of Gamers GL551JM-DH71 notebook, feel free to visit the official website (opens in new tab).
Staff Writer at CinemaBlend.
Your Daily Blend of Entertainment News
Thank you for signing up to CinemaBlend. You will receive a verification email shortly.
There was a problem. Please refresh the page and try again.