Baldur's Gate 3 Might Be Funded Through Kickstarter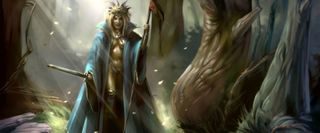 Last week, Overhaul Games announced that they're making Enhanced Editions of PC role-playing games Baldur's Gate and Baldur's Gate 2. However, they have plans for the series beyond these two remakes. They say that they'd like to make a Baldur's Gate 3.
"Baldur's Gate 3 has been our long term goal. We have a lot of things to put in place before such a project can be launched," Overhaul Games' Cameron Tofer told GameSpy. "So currently there is no such project but that's the one we want to do. Our thoughts have been that Enhanced Edition for BG 1 and 2 just make sense before there's any Baldur's Gate 3."
I'd imagine the revenue from the remakes will help fuel the development of BG3. However, Tofer says that they might also use crowd-funding site Kickstarter.
"We're totally thinking Kickstarter. It just makes so much sense and solves so many problems. I think what Brian [Fargo] is doing with Wasteland is very interesting."
Fargo's company InXile Entertainment is using Kickstarter to fund Wasteland 2's development. Wasteland, if you're not aware, was a post-apocalyptic RPG made by Interplay in the late eighties. It's considered the spiritual predecessor to Fallout. Thus far, Wasteland 2 has racked up over $1.3 million in funding through Kickstarter. Baldur's Gate is an even more well-known series so I'd imagine Overhaul could rustle up even more money than that.
I loved the hell out of Baldur's Gate and its sequel but I'm not sure what a third installment would entail. The second game wrapped things up very neatly. Still, if someone wants to make BG3, I'd play it.
The Enhanced Editions of Baldur's Gate and Baldur's Gate 2 will update the games and their respective expansion packs with an improved engine and new content. Baldur's Gate: Enhanced Edition is expected to arrive this summer.
Your Daily Blend of Entertainment News
Staff Writer at CinemaBlend.